The New Normal: Navigating the Post-COVID World for Salon Business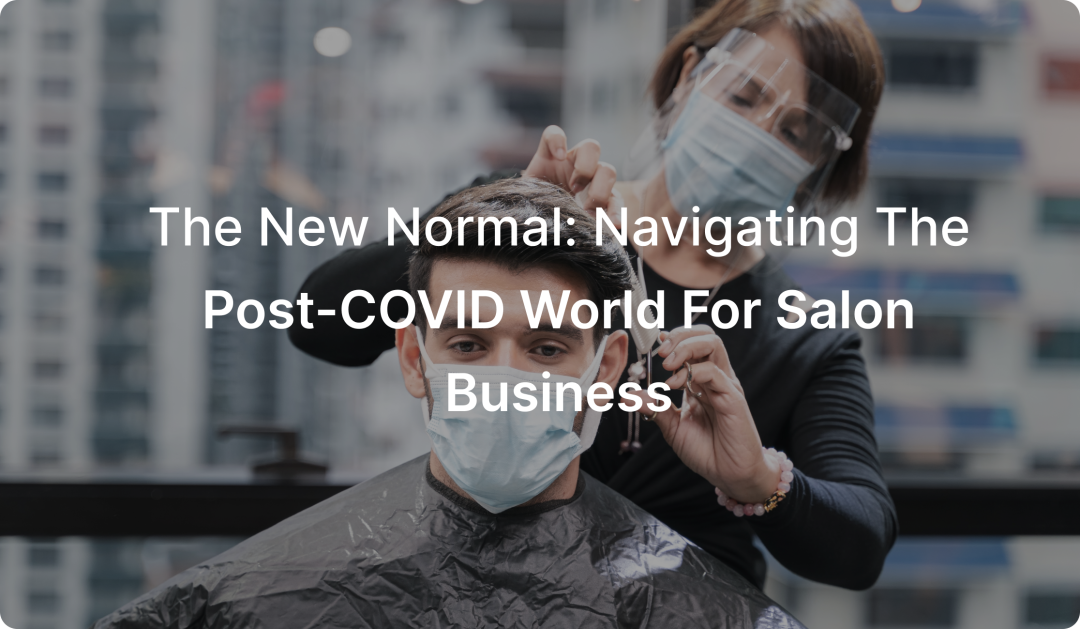 Grooming back to Salon Business: Beauty & Wellness Industry in the Post-COVID World
Gone are the days when we could make an impromptu beauty parlor visit for a pedicure, haircut, waxing, or beauty fix. Owing to the threat of the highly communicable coronavirus, the beauty and salon business industry is all set to change.
With salons and spas being intimate environments, close contact is almost non-negotiable. Does that force salons and barbershops to close across the country? While the industry will be impacted, it is not the end for them. A 2019 report by the Indian Beauty & Hygiene Association (IBHA) forecasted that India's beauty and wellness market is to reach Rs. 2,463.49 Bn by 2024. However, today's future is uncertain and bleak as the livelihood of salon professionals will be majorly impacted.
Also Read: Steps to Market Your Newly Opened Spa Business
Rising Popularity of DIY Methods
While coronavirus has been a major culprit, the lockdown in the country seems to have worsened things. As people stayed home, they had more time on their hands. A lot of people decided to acquire beauty skills via digital means. There was also a whole buzz about home haircuts after leading Bollywood actor, Anushka Sharma, gave her husband, Virat Kohli, a haircut. With DIY (Do-It-Yourself) skincare regimes and makeup tutorials available online, people have become more aatmanirbhar (self-dependent). Even avid salon-goers have become comfortable with the concept of self-grooming.
Challenges Faced By Salons & Spas
The monetary downside of COVID-19 has severely impacted the beauty and wellness industry. Here are some of the challenges being faced by big and small players alike:
Revenue Loss:
The financial repercussions of COVID-19 have left the majority of salon owners in India severely stressed. Amid the pandemic, a lot of the fear of when will be able to bounce back into action.
Overheads:
Without any business in the month of late March, April, and May, salon owners were still forced to pay rent and other utility charges to keep the show going on. Owing to the lack of business, it has become very difficult for them to pay staff salaries too.
Consumer Confidence:
A few salons, barbershops, and spas are opening across a few parts of the country, another problem being faced by the owners is gaining consumer confidence back. Since salons are predominantly a touch industry, many people are apprehensive about making a visit as there is a potential risk of being exposed to the virus.
Social Distancing:
With social distancing becoming the new normal, salons too will have to jump onto the bandwagon. Distance between every chair and washing station is a must. Reducing the number of stations could result in fewer customers in a salon at a time, which further means reduced revenue.
Most Read: Tips to Simplify Salon and Spa Business Operations post-COVID 19
Reduced Staff:
Many salon owners have been complaining that a lot of their staff has gone back home due to which they are operating with fewer stylists and technicians on the floor. Since hiring during this phase is difficult, salon owners will continue operating with staggered staff.
Also Read: Improve Your Salon Operations Overnight With These Tips
Additional COVID Surcharge:
Deploying safety measures in a salon comes at an additional cost. Since salons will have to modify their space with disposable tools, safety dividers, sanitizers, disinfectants, and disposable gear, they will not just have to invest heavily to ensure the safety of their patrons but also hike their prices slightly in the best interest of the clients as well as the employees.
Precautionary Measures & Tips to Recover Your Salon Business
Under the new normal, beauty parlors are all set to undergo a seismic shift. While it may be the hardest-hit industry, it is also the most resilient and likely to bounce back swiftly. If you're a salon owner who is worried about how to cope in the post-COVID world, here are some safety measures you must deploy and tips that will help you recover:
Prepare Your Salon:
As you prepare your salon to serve customers again, make sure you deploy stringent measures. To re-engineer customer experience, it is mandatory to maintain the highest level of safety and hygiene. Continuous and rigorous screening of salon teams, recording client data when they come in, ensuring both the client and employee are wearing disposable gear such as masks, gloves, and foot covers, disinfecting the area after every service, daily deep cleaning, using paper cups for beverages, adhering to strict social distancing in the waiting area and switching to cashless payments are few measures every salon must adopt.
You might like: Know The Importance of Everyday Salon Cleaning
Leverage On Technology:
Technology can be your best friend during such times. Encourage online bookings on your salon software, prohibit walk-ins, limit the number of customers on the salon floor and sell salon retail online to enhance safety and stay in the game. Use Salon Software to manage your day-to-day operations and send COVID-19 screening survey forms or consent forms during appointment booking.
You might like: Surprising Benefits of Online Booking For Salons, When Done Right!
Communicate With Salon Clients:
Remember, a lot of your clients are at home and are spending time on social media platforms such as Facebook, Instagram, and YouTube. Utilize this time to grab their attention. The best way to instill their confidence again is by taking them through the safety measures you've implemented in your salon. You could also create videos that give them a virtual tour of what your salon looks like in the post-COVID world. When they see that you're serious about their safety, they're more likely to schedule an appointment.
Most Read: Get All Salon Clients For FREE Without Marketing
Invest In Online Education:
During these difficult times, it is important to stay connected with your audience. You could probably release a weekly IGTV tutorial on home skincare or haircare regime. This is the best way to educate your customers and show them what you're good at.
Train Your Team Efficiently:
Your team is your everything right now. Hold meetings often and communicate with them about all your reopening plans. They need to be well-versed in all the safety measures they're required to follow. It is essential to practice what you preach. When your team and you are on the same page, you'll bounce back faster than you can think.
You might like: Why One-on-One Meetings are the secret to Motivate Salon Teams?
Inform Your Clients About The Price Hike:
If your salon plans to levy an additional COVID surcharge, inform your clients about it and tell them why you're doing so. Remember, additional safety comes at an additional cost. Have no qualms about informing your customers. It's for their safety and they're likely to understand.
Necessity Is The Mother Of Invention:
During these times, be on the lookout for new and innovative ways to execute certain services that are primarily based on touch. The internet is full of ideas. Keep your eyes and ears open to new threading and waxing techniques so that your clients rest assured about their safety.
Also Read: How Salon SMS Marketing Can Be A Game-Changer For Your Salon Business?
The beauty salon business in India is big. As a salon owner, it is important to be vigilant. The challenges caused by the pandemic are here to stay. However, with a strict salon policy and the implementation of certain guidelines, your business can emerge stronger from it.
We're in this together