Salon Membership Programs – Are They a Boon or a Bane?

As a salon owner, your main motive is to generate as much profit as possible. From running promotions to holding special events, you leave no stone unturned to increase the overall bottom line of your salon.
While you think you are doing every possible thing to keep your clients happy, it's never enough. It's always important to go the extra mile.
One salon marketing idea many owners tend to skip is salon memberships. When done right, they have the potential to bring buckets of money into your salon.
You might like: All You Need To Know About Salon and Spa Membership Programmes
Though salon memberships have been around for years, they're seldom talked about.
However, there's one thing about memberships, they only tend to work for existing clients. Don't even try getting new clients to sign-up for one, it just won't work. That being said, they work wonders for clients who are already in awe of your services.
With more and more salons looking at introducing membership programs, we just had to delve further to check if it's a boon or a bane.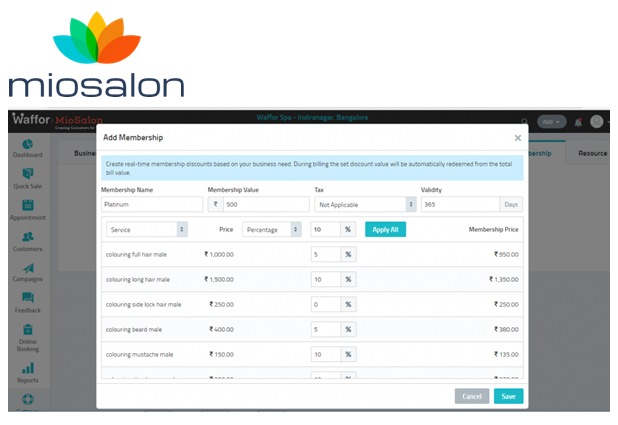 So if you've been in the beauty business for a while and are not too sure if you must introduce one or not, this article has you sorted.
We'll tell you the good as well as the bitter truths about salon membership programs.
Before we get into the nitty-gritty, let me tell you that incorporating a membership program for your salon is a win-win when you have salon software. That's because it makes membership creation and sale a breeze.
Though salon membership programs might seem attractive at first, there are some important elements you must consider. A short-term gain can even bring you long-term pain. Thus, be extremely careful before incorporating one.
Pros of salon membership programs:
➭ You receive payment in advance for treatments you will provide later
➭ Your clients are locked into your salon for an extended period of time
➭ More consistent hours of work for your stylists and technicians
➭ Reduced gaps in your salon appointment software
➭ Extra retailing and upselling opportunities
➭ Clients are inclined to pay and try new services
➭ Reduces employee turnover
On the surface, all these points appear desirable. However, it can even adversely affect your business. To avoid this from happening to your salon, you must understand the different types of membership programs available. Only for your client's programs that will enhance the revenue of your salon.
Types of Salon Membership Systems
➭ Client loyalty program:
This type of membership requires a client to pay a set monthly amount and receive discounts on services and retail products during the membership period. For example, in this type of program, a client can join the membership for a year and pay an 'x' amount every month and enjoy a certain percentage of benefits on all products and services.
➭ Unlimited membership system:
As the term 'unlimited' implies, this program entitles the client to enjoy an unlimited amount of services included within the membership.
➭ Client service discount system:
The third type of program involves a client paying a fixed monthly amount and receiving a set number of services included within the membership. For example, if a client pays INR 3,000 per month, they'll receive two blowouts, one haircut, and one nail art service. However, this is purely an example. The cost and number of services will vary as per your salon rates.
If you want to bring in a substantial amount of money to your salon within a short period, these types of membership programs will work. It's a blessing especially if you want a quick injection of money into your business.
Additional Resource: Successful Salon Loyalty Program Ideas 
By now, you definitely think membership programs are a boon to your business. Before we proceed to the ugly truths, here's a little anecdote. Salon membership programs are like a fully loaded weapon. If used in the right hand, it can save your business but if used in the wrong way, it can slow down your business forever.
If you are running a membership scheme, it is important to have a large number of clients to sign-up. Read this ultimate guide to Build your Salon Client Database Like a Pro. If you're a new salon, we've got a definitive guide to secure your first 100-salon client database.
There's no point if just two or three clients avail of the benefits. This way your salon may fail or even go out of business.
Here are a few points you must consider about your membership program before you get started:
➭ You must first determine how much profit you are making on the services you provide currently. If you are already making enough profits on single services, a membership program won't make much difference. Always leave a little gap between what you are making and what you are ready to offer. This will make sure your profitability won't slump at any point.
➭ Exclude any high-cost or low-profit services from your program offer. When creating a membership program, work towards creating value rather than going at a loss. You may also have to consider whether your clients can share the membership program with friends and family.
➭ Make sure all the services in the program are highly profitable. This will avoid any kind of financial ruin. When your client buys a program, you should be able to make at least a small margin of profit. If you are a low-price point salon, membership programs are not for you.
➭ Calculate how many programs you will have to sell in order to reach a particular profit goal. However, don't be tempted to sell more than you need to.
➭ Decide what your actual program offer will be. Will the program require the client to pay cash upfront or make monthly payments? It is important to decide this initially so that you are sure that employee wages, retail products, and consumable expenses are taken care of.
➭ Wrap a time around which the membership program will start and finish. Also, let your clients know that they can't avail of discounted services during busy months such as Christmas and New Year. It is important to be realistic about the number of times members can use their programs for. In the end, you don't want your clients to be disgruntled saying that they didn't receive enough value for what they were expecting.
➭ Create a membership contract and clearly state what you are and aren't offering. Make sure your clients sign a copy prior to the commencement of the program.
So, now that you know how salon memberships work, use them as part of your marketing strategy. In order to make maximum use of this valuable tool in your salon or spa, use MioSalon, salon software.