6 Mother's Day Marketing Secrets for Your Salon And Spa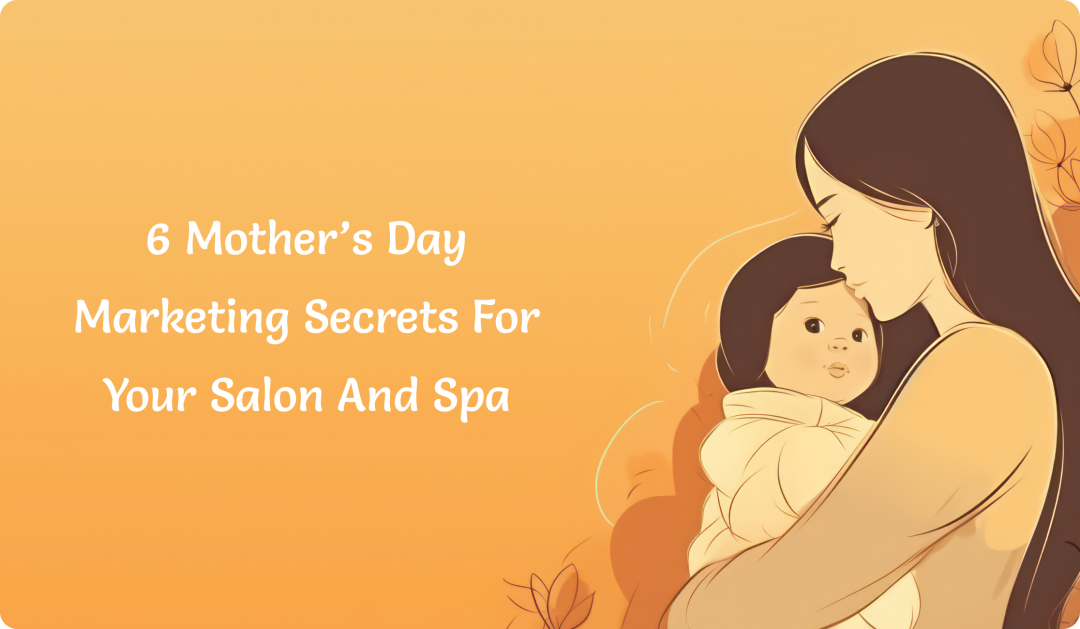 Mother's Day Marketing Secrets for Your Salon And Spa
It's time for savvy salons and spas to get their marketing organized. Mother's Day Marketing opportunity for your hair and beauty business. It is not just a great way to make a quick buck but also when done right; it can bring immense value to your salon or spa. Surveys also reveal that on Mother's Day clients are more likely to be in a gift-buying mood than on Valentine's Day. That's mainly because mother-child bonds are so strong that kids want to do all that they can to show appreciation to their birth-givers.
While most people made homemade cards for their mothers as children, today that has been replaced with other gifts such as flowers, brunch at a restaurant or just a gift. Though these cliché gifts can make a mother happy, that's not always what she wants. The only industry that is in a unique position to know exactly what a mother wants is the salon and spa industry.
With that being said, the best way to get more mommy clients through the door this May is by running exclusive Mother's Day Marketing promotions.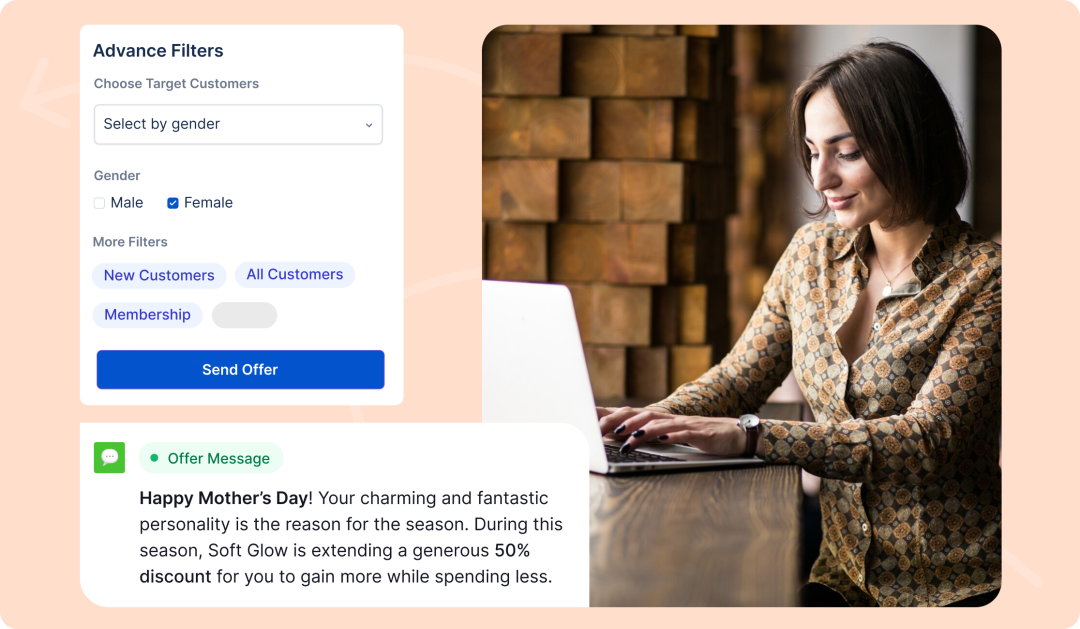 We've rounded up 6 tried-and-tested hair salon mothers' day ideas that will surely make your clients and their mothers happy.
6 Mother's Day Marketing Secrets for Your Salon And Spa
1. Mother-Daughter Packages
Remember, Mother's Day is all about celebrating that special bond. Though mums may enjoy a salon outing on their own, they'll be happier if they get to spend quality time with their daughters while being pampered. The first place to start is by creating mother-daughter packages. You can develop a few pre-set packages where a mum and daughter can enjoy being pampered side by side. Packages will also help you drive double the revenue.
Salon & spa software makes package creation and redemption extremely simple. You can even give clients the option of customizing the package for their mother. Not every mum's needs are the same.
For example, a glamorous, outgoing mum may want a package that includes facials, manicures, cut, and blog dry while a mum who spends her week at work may want to come in for a tranquilizing massage. Thus, tailor your salon packages to suit the unique personality of every mum.
2. Spread The Word
You cannot possibly run a mother's day promotion and tell no one. Thus, it is vital to let your clients know that you are running a Mother's Day special offer. There are many ways to go about doing this. However, SMS and email campaigns are known to give tangible results. It is also important to know how to get your Salon SMS opened & read.
It is also a great way to stay connected with your current customer base. With salon software, sending out bulk SMS' is pretty simple. A good practice would be to work out five different scenarios and release five different texts. This way you can target different types of clients. Here are a few Mother's Day SMS templates for you:
➢ Hey you! This Mother's Day pamper your mum with a wash and blow-dry at a special price only at <salon name>. Call <number> to know more.
➢ It's raining mother's day offers at <salon name>. Bring your mum along to be pampered with special offers, goodie bags, and more. T&Cs. Offer valid only on 12th May 2019.
3. Gift Cards and Certificates
Most children or husbands often don't know where to start when it comes to salon treatments. Also, the go-to last-minute gift for most people is gift cards. So make sure you have plenty on hand at least a week before Mother's Day. Make sure to let your clients know where they can purchase the gift cards. Have a bunch of them online as well on sites such as Amazon for last-minute shoppers.
To make the mother's day gift cards more personalized, you could also print special messages on them such as 'best mother' or 'mother of the year'. During such special occasions, you could also team up with local florists or card shops in order to reach out to a wider audience. When you collaborate with other businesses, your chances of doubling your revenue also increase.
4. Host a Special Mother's Day Event
If you want your salon's Instagram and Facebook page to look good on Mother's Day, how about hosting a special event for all the mothers? You could even have exciting themes such as 'Ultimate Mother's Day Pampering', 'Masks, Manicures and Mothers' and so much more. Try and plan events that mothers would enjoy attending with their daughters. Whether you want to make the event chargeable or not is completely your discretion. Here are the ideas for the next event at your Salon & Spa.
If you don't want to lose profits and still add value, you can probably cut down the treatment time and offer services for free. For instance, if a client books in a manicure for their mum, you could throw in a free pedicure for them. If you are planning promotions like these, make sure to list the terms and conditions on your salon management software.
5. Online Marketing Contests
Days before Mother's Day leverage the power of social media. Facebook and Instagram are sure-shot platforms to attract the widest audience towards your business. Update your social profile with relevant and engaging mother's day content. Having a mother's day contest really works. Have a mother-daughter selfie competition with some really cool hashtags such as #MyMotherIsSpecialBecause or #MyMotherMyHero. Ask participants to write a few lines about their mother and reward the winner with special giveaways. This Mother's Day Marketing idea works extremely well for new clients. Use this as an opportunity to get new clients through the door. If a mother-daughter duo likes your services, they'll surely be your clients for life. Engaging with current and potential clients on social media will help drive brand awareness.
6. Mother's Day Retail Gift Packs
Mother's Day is also a great occasion to enhance retail sales. Make the client's choice easier by creating baskets containing your best-selling products. If there are any products in your salon which are slow-sellers, make sure to include them as well. This will enable you to reduce your inventory. You can resort to your salon inventory management software to check which products are fast-moving and which are not.
Most Read: Increase Profits using salon inventory management software.
As a salon owner, your aim is not just to attract clients on this one day, but all throughout. Ideally, the clients you are able to attract on Mother's Day are the ones that will stay with you through the rest of the year. Remember, Mother's Day is just another reason to throw your salon in good light, attract new clients and retain them forever. It is also a time when you need to remind existing customers about the myriad of services you offer. The best way to encourage customers to book a return visit after they have availed of their mother's day offer is by giving them a discount voucher to redeem within a month. This way you can earn recurring customers and maintain steady profits using salon loyalty programs. With salon and spa software, you can even send your clients reminders regarding their upcoming bookings.
Mother's Day is a huge marketing and sales opportunity for your salon and spa. Whether you want to spread the word or provide flexible gift card and purchase options, MioSalon, salon software will help you every step of the way. If you have other mother's day marketing ideas for salons, we'd love to hear you! Our software is designed to make sure you stay visible and competitive in the over-crowded beauty business.