5 Branding Steps to Revitalize Your Salon  And Spa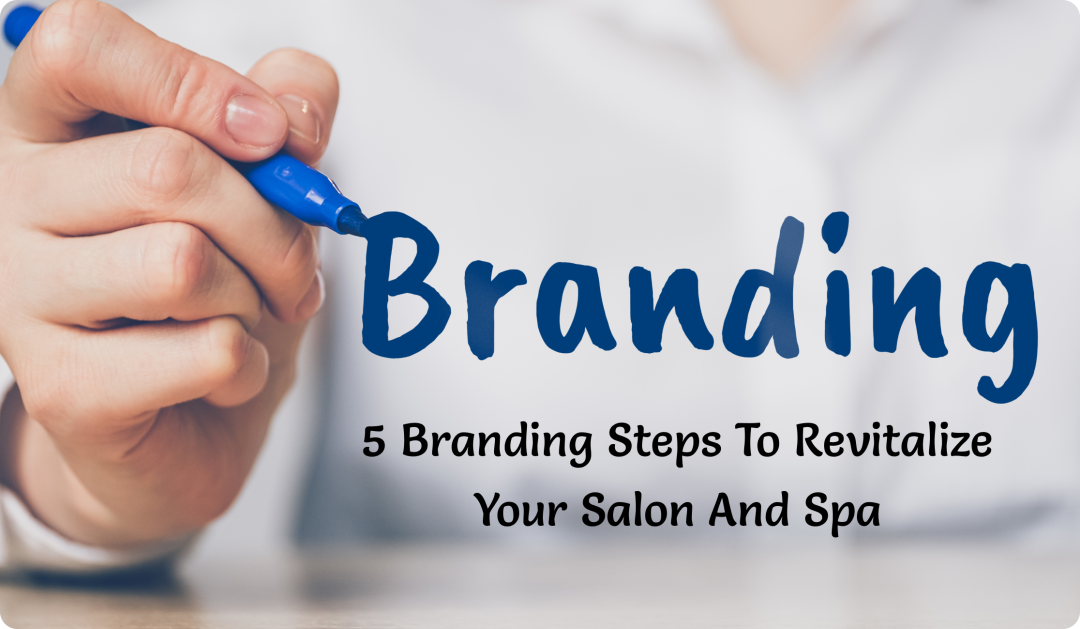 Over the years, it's quite natural for your salon or spa brand to be lost in obscurity. That's mainly because so many new wave beauty businesses are evolving each day that the old ones just seem to be lost. There are blowout bars, nail bars, massage parlors, and whatnot.
Of course, every spa owner has a goal to stay successful in the long term. They've worked long and hard managing the spa floor, raising finance, dealing with sales representatives, stock control, client retention, and so on.
It all seems rosy till it lasts. You may know everything about hairstyling and color and the latest trends, but do you feel a little stuck when sales are stagnant, clients are canceling appointments and the competition within the industry is growing fast?
If such is the case, it's time you shift your goal to reinvention. If you know how to reinvent your focus and offerings to fit with a customer's desires and industry trends, you are more likely to succeed.
Reinventing or rebranding is not something new. It's been happening for years together as industries constantly open new shops, expand existing ones, shift to more meaningful, exciting work and focus on more revenue generation.
Many times, salon owners even step off the shop floor to spend more time on the business rather than in the business.
Rebranding your salon image is all about transforming a mundane hair job into an exciting activity knowing you are going to be creating something new and profitable.
5 Hacks To Reinvent Your Brand In The Salon And Spa Industry
1. Define Your Ultimate Business Goal:
Early in the lifecycle of your reinvention stage, it's important to redefine your business goal. Do you want to spend more time growing your business or dealing less with clients? The choice is yours. Rebranding and making the shift is definitely not easy. It can be confusing for your staff as well as your clients. Clients constantly calling to schedule an appointment and you're not at your spa can be quite unpleasant. Thus, the first step to redefining your rebranding goal is to invest in spa scheduling software that allows clients to book their services on their own while you're busy devising ways to grow your business. This way, you can do your own thing and your spa reputation too remains intact.
2. Accept The Present And Work Towards The Future:
Reinventing your spa brand does not mean completely abandoning your existing one. It's important to find your unique selling proposition and the strengths of your spa. That's what your clients remember you for. Thus, you don't have to discount what you built, instead, you need to think of something new and leverage the difference. Start adding value to your Salon services. This way, you can maintain your integrity and loyalty at the same time.
3. Develop Your Story:
As a salon owner or hairdresser, your clients just look at you as someone who cuts hair all day. They don't really know the real story about how your salon was incepted and what all it took to deliver great hair and experience to all your clients. A good idea would be to explain your brand transition to them. For that, Hairdressers have to master the Salon Client conversations. Well, not each and every detail. Once you instill a sense of confidence in your salon clients, they'll view your salon from a different eye and may be keener to avail of certain services from you.
4. Reintroduce Yourself:
Once you are clear on your new salon brand destination, it's important to introduce your salon to a new audience. However, make sure you don't end up confusing existing clients. Thus, make sure the process is slow but steady. Take baby steps and let your clients know through an in-house e-newsletter that you are introducing new changes that will benefit them. Depending on the scale of change in brand direction, utilize your spa software to give clients special offers and discount coupons. Contact clients using Text messages and Emails and let them know that now they can book appointments on the spa scheduling software that enhances the client experience and works towards better services.
5. Prove You Are Worth It:
So, now you have your new salon and new brand direction, but how are you going to prove to your clients that you are truly worth the value? Make it a point to ask your existing clients for recommendations and referrals. Collect Feedback and ask satisfied clients to leave testimonials and show proof that your new brand is really worth a try.
Following the above five steps is a great way to reinvent your brand in the salon and spa industry. However, you need to be consistent and committed to the new brand. Bouncing back is just not an option. Your spa will only evolve and go far when you make an effort to learn new skills or invest in spa management software that will propel your business in a new direction and convert it into an exciting, raving, and profitable enterprise.
Recipe for Salon and Spa Success
After implementing steps to stay ahead of the game, you need to focus on these four key areas to stay innovative and create long-term success:
➢ Technology: Technology has become an integral part of the salon business. The tools you use must be simple and customer-focussed in order to give you a competitive edge. Online booking and confirmation through text and email should be streamlined by using technology. It not just improves client outreach in between appointments but also gives them greater access to products, services, and talent through cutting-edge technology.
➢ Relationship building: Always work towards maintaining amicable relationships with your vendors, product partners, and community. The more people who view your business as a supportive business, the easier it is to grow organic relationships.
➢ Staff support: Your team is an integral part of your salon business. They need to feel valued and thus it is essential to provide them with skill-building regularly. A Salon owner should know how to manage staff effectively and give them opportunities to feel appreciated and offer them regular incentives.
➢ Education: Lastly, in your rebranding process, educate your staff and clients about the products you host and the services you offer. The more stylist knows about the products you offer, the easier it will be for them to upsell to regular as well as new clients.
If you're a salon owner excited to learn what's new in the marketplace, it's important to reinvent and rebrand your salon. It's always better to anticipate change and be open to innovation and development.
Reinventing your salon and spa business successfully begins when you invest in technology that can turn things around for you. MioSalon, a spa software, is here to simplify your daily salon processes and shape a unique personality for your business.