Killer Ideas for Hair Stylists, Therapists, and Salon Owners on Instagram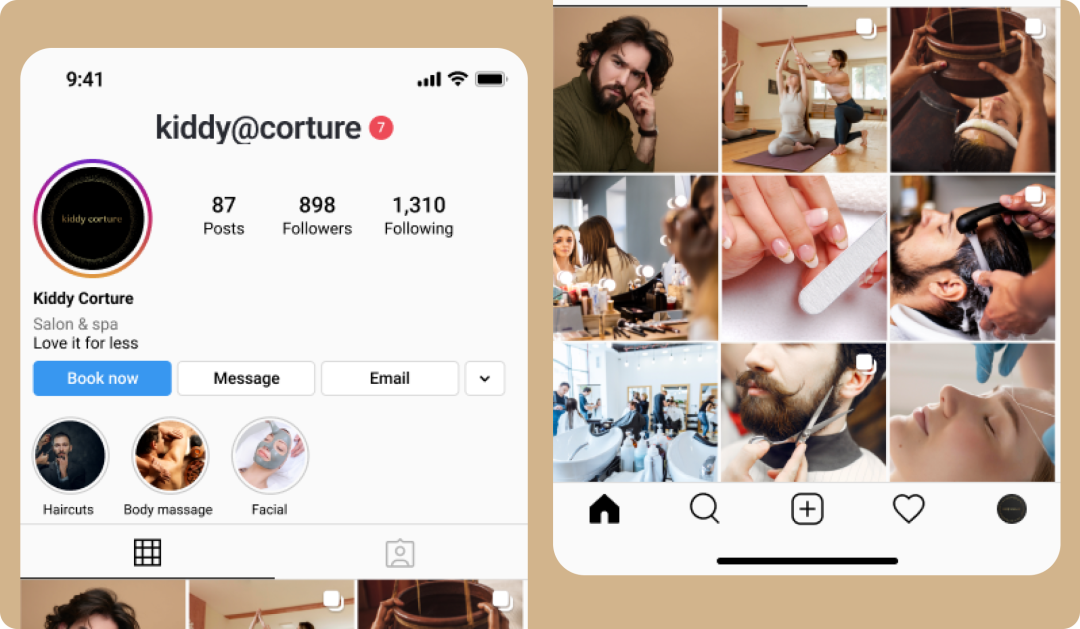 In an age of social media, it is imperative for a salon or spa to leverage its Instagram feed to secure clients. The number of stylists, therapists, and salon owners using social media is increasing at lightning speed. However, are the pictures & videos on your feed enough to stand out, increase your followers, and secure clients? Well, no! You got to have a killer Hair Stylist Bio for Instagram in the first place.
Table of Contents:
How you can write a winning Instagram Bio
How to write a killer Hair Stylist Bio for Instagram
Mentioning your area of expertise is a good place to start
Specify if you are a freelance stylist or hairdresser
Include #Hashtags and Profile links
What is an Instagram Bio & what must it include?
Create Salon Instagram story highlights
Here's How you can write a winning Instagram Bio
Your Instagram bio should achieve two things :
1) Give a short and concise introduction to your salon
2) Guide the visitor into the kind of action you want them to take when they reach your profile.
Without further ado, we're here to discuss how you can craft a killer Hair Stylist Bio for Instagram that will give your competitors a run for their money. Whether you're an individual stylist or you run a full-fledged salon or spa, we have you covered with tricks, tips, and templates you wouldn't have imagined. Read on to find out more.
How to write a killer Hair Stylist Bio for Instagram:
We've come to the most exciting part of this blog piece which is writing a bio for Instagram. Here are the best ways to write an outstanding Instagram Bio. Keep the following points in mind:
Mentioning your area of expertise is a good place to start
Remember, potential clients, are everywhere on the gram. Therefore, highlighting your specialty will immediately catch the attention of new clients.
Specify if you are a freelance stylist or hairdresser
This will help your potential client to get a clear picture of your nature of work. If it is a standalone salon or spa, mention that as well.
Include #Hashtags and Profile links
Instagram has made it possible to add #hashtags and profile links to the bio. This means you can let your followers learn more about you with specific hashtags. Make sure you use them wisely in the bio section. You can also link to other accounts with the @mentions feature. Use this opportunity to link to partner salons, the head stylist's profile, or another branch of your salon.
Get creative with emojis
Use emojis in a creative way to grab the attention of your profile visitors. Scissors, nail polish, and haircut emojis are a few options you can consider using.
Add your website link
Once you have visitors reading your interestingly written hair stylist bio for Instagram, you'll want them to take some kind of action, right? You didn't get them here only to admire your beautiful feed. You can have one website link in your Instagram bio. Thus, you have to make a smart decision as to what you want to include. We would recommend you use the 'book now' call to action button that would redirect viewers to your salon software to schedule an appointment online. You'll be surprised to see the benefits of using online appointment booking for salons.
If your Instagram marketing strategy requires you to change your link every few days, make sure you keep it up-to-date. It should not confuse users in any way.
Another call to action buttons to include below the Instagram bio are phone number, email address, and directions.
Salon Instagram Bio Templates
Let's take you through a few templates we've crafted especially for you.
1. Nail extensions, Mani-Pedi, Blow-Dry, and more. We're here to redefine #HairGoals.
2. India's first Blow-dry bar pampering you with some bubbly, good hair days and chic makeovers.
3. Hair extensions, smoothening services, mane treatments, and more. Do you like what you see? Book your appointment.
4. An award-winning salon backed by industry-experienced beauty experts. Haircuts, blow-dries, funky nails, grooming, and more.
5. Freelance Hairstylist in India. DM for bridal hair-dos, events, and more. Also, a #Balayage specialist.
Think about it – what is the first thing you see when you go to a private Instagram profile? It has to be the Instagram bio. A well-written hair stylist bio for Instagram is your elevator pitch to attract clients.
A lot of hairdressers and therapists usually ignore this bit because they feel like their visuals speak more than the written words. When a new client stumbles upon your Instagram profile for the first time, they care as much about your business information as they do about your work.
They are interested in learning about the kind of salon you are, where you are located and your area of expertise if you are a freelance stylist or hairdresser.
What is an Instagram Bio & what must it include?
An Instagram bio is the brief description you see at the top when you visit an Instagram profile. It is usually a brief description of the brand that should be short and sweet to engross viewers. Your Instagram bio must compel viewers to click on photos, view story highlights, and dive deep into your page. That's why you will need a killer hair stylist bio for Instagram.
This small space with 150 characters is where people land to find out more about your beauty business. The way you project yourself will determine whether a visitor will click the 'follow' button or not. It is also the best way to build your Salon Branding.
Believe it or not, your Instagram bio can make or break your salon business. Thus, you need to make sure you engage people to make business with you.
Add and update your profile
Before you get down to writing your Instagram bio copy, make sure you have a few things in place. Your salon or spa profile picture matters. The best way to go is to use a symbol that represents your business. We would recommend using your logo.
When you convert to a business profile, you'll be asked to create a user name and profile name (the one that will appear above your bio). Your name should be something that users can find easily. You can also include the city your salon is based in, in the user name. For example, 'MonaLisaMumbai'.
Create Salon Instagram story highlights
With Instagram story highlights, you can show off the behind-the-scenes of your salon to new followers. While you can regularly post good images to your feed, adding every day to your story is a good practice.
Whether you want to show off a new hair color done on a client or give your followers a sneak peek into an upcoming event, stories are the right way to go. Use these salon quotes and hairstylist quotes to add more value and curiosity to your salon's social media posts
Make sure you organize your story highlights in such a way that is visually pleasing, resonates with your salon brand, and is easy to navigate. You can also select a cover image for each story highlight to make it look neat.
Think of what makes your salon unique and start adding to your story. Follow all these significant steps to build & improve your overall salon online reputation
Remember, your hair stylist bio for Instagram is important. It may seem like a small detail but it is certainly worth taking some time in crafting concise but engaging copy. If you are looking for salon software to manage your social media campaigns, MioSalon is always at your service.