Tips for Streamlining Salon and Spa Operations in the Post-COVID Era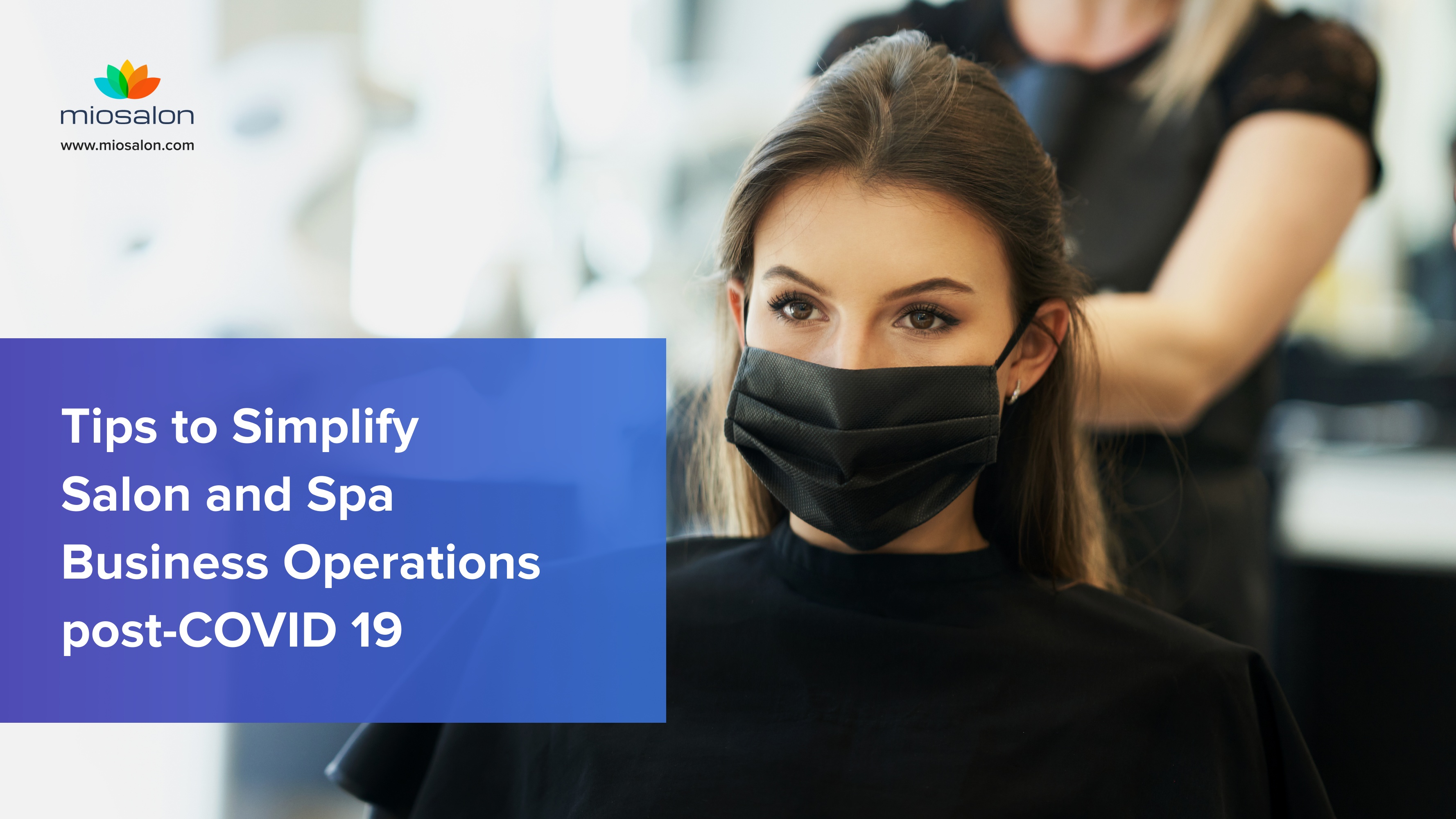 Personal interaction, human relationships, and contact are a core part of the beauty and wellness industry. There are no two thoughts about the fact that the coronavirus outbreak has disrupted several small businesses across the world, and salons and spas are no exception. These are the two places that are susceptible to the impact of COVID-19. It's impossible to provide beauty services or massages without physically touching your clients. With so much uncertainty around, a lot of salon business owners have temporarily shut down operations. However, this cannot go on forever, right? When things begin to ease out, customers too would want to return to their favorite salons and spas. This time it would be in the "new normal".
Also, read this: Spa's Five daily operations that need to be automated
Creating a post-COVID Action Plan
In the wake of the current situation, the need of the hour is for business owners to future-proof their salon operations. The impact of COVID-19 on the salon business will last for a long time. Therefore, now is the time for salon owners to develop proactive strategies that will ensure their business thrives in the post-COVID world. A good place to start is by developing an action plan. It should comply with all the new realities and guidelines suggested by the concerned government. Also, ensure the measures you adopt to create the same experience for your clients that they would enjoy pre-COVID.
An important part of simplifying your salon operations would be keeping your business updated. The COVID-19 pandemic has intensified the need for businesses across all industries to rely on technology. Even before welcoming customers back, it is imperative for salon and spa owners to change their mindset. Now more than ever, it is important for your business to rely on salon software. Even when you feel like you're losing control, the software will act like a control center managing your business and ensuring its success.
You may like: Tips for Running Salon Operations Efficiently with Salon Software
7 Tips to Support Your Salon & Spa Operations During COVID-19
As a salon business owner, here are a few tips you can keep in mind as you reopen post-lockdown. These steps will not just help you simplify salon operations but will also set you up for success in the year ahead:
1. Optimize the Scheduling Process
2. Manage your Product Inventory
3. Rethink your Marketing Strategy
4. Incorporate a Contact-less Check-in Process
5. Sell Online
6. Contact-less Payments & Check-out
7. Automate Everything
1. Optimize the Scheduling Process
Taking a client's appointment booking over the phone is now an obsolete process. With your salon or spa reopening, you will have plenty of tasks to tick off your to-do list. Instead of answering calls all day, utilize your team in a better way. Make it easy for a customer to schedule their appointment online on your salon booking system.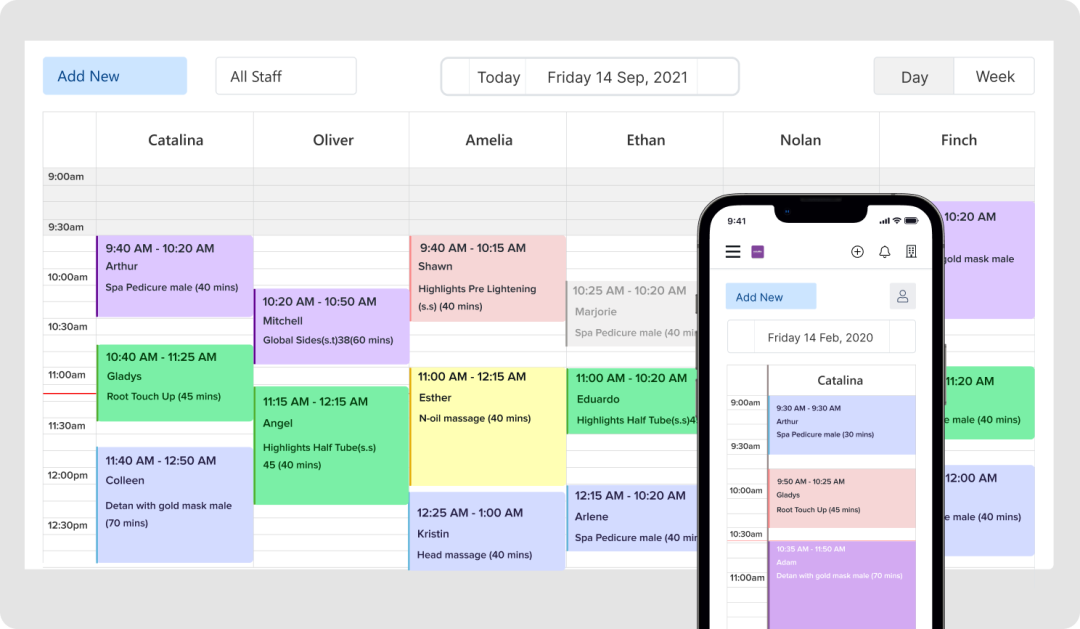 During such times, online scheduling is especially useful. It also gives clients enough time to understand which services are available and which are not. A simplified scheduling process is the first step to reviving your salon business post-lockdown. In addition to relieving pressure from your staff, automated solutions make it easy for customers to reserve their slots without going through several gatekeepers. Also, in case there is a self-declaration form that needs to be filled out by customers before scheduling an appointment, they can do so online. Simplifying the scheduling process significantly prevents no-shows, reduces, walk-ins, and prevents overbooking.
Also, read this: Improve Your Salon Operations Overnight With These Tips
Another tip is to reserve enough time in between each appointment for deep cleaning and chair sanitation.
2. Manage your Product Inventory
An often-overlooked salon area is inventory control. If you're about to resume salon operations over the next few days, a good idea would be to organize your inventory. With your business temporarily closing down, chances are you've lost track of which product lies on the shelves and in what quantity. The best way to manage your product and stock is by relying on salon inventory management software. It will give you a clear picture of which products you have in excess and which are near expiry.
Even before you reorder a product, track the appointments you're getting. Once you resume, you either may have an influx of customers or no customers at all. You've got to manage your inventory based on the response. A good idea would be not to over-order. Stick to a limited product inventory for the first month. If you notice customers coming back for a service, you can always reorder a particular shampoo or beauty product. Also, in case there are certain services you're not offering at the moment, don't order those products. For example, if you've taken off facials from your menu, for the time being, keep the inventory for cleansers, toners, and other similar products low.
A powerful inventory solution will help you simplify your operations by ensuring the right products are available in the right quantities while minimizing additional costs.
3. Rethink your Marketing Strategy
Salon marketing during COVID is important. The key to keeping your business afloat is to keep your customers informed. At every stage, it is important to share important information with your customers. You can use your hair salon software to create personalized offers, and SMS and email campaigns. Whatever added measures you enforce in compliance with the COVID-19 pandemic, it is important to communicate the same with existing as well as new customers. The goal is to provide a safe experience for them. Remember to share how you're keeping your staff and premises safe on social media. If your team is fully vaccinated, don't forget to mention that as well. In the post-COVID world, smooth communication is important if you want to succeed.
Another way to attract customers to the salon industry post-COVID is by tracking their past purchases and service history. Use your salon software to track their preferences and habits. Focus on the clients who've spent the most with you in the past. Reach out to them with personalized messages and offers. This move is likely to re-instill their trust in your salon or spa again.
Also, read this: Clever Salon Marketing Strategies To Heat Up Summer Sales
4. Incorporate a Contact-less Check-in Process
The greeting and hospitality practices at your salon or spa have to change. Handshakes and hugs are a big no-no. Instead, train your front-desk staff to welcome clients with a smile on their faces. Don't be afraid to change your check-in process even though it might seem a bit impersonal. In your appointment confirmation email, make sure you explain to your customers the safety measures your salon is adopting.
Ask your clients to fill up the self-declaration form before they arrive so that there's no need for them to share a tablet. Let go of the waiting room too and make sure you have QR-code menus. Before leading them to the workstation for the actual service, ensure their temperature has been checked, their hands are sanitized, and they're wearing gloves and masks. As far as possible, encourage the use of single-use products such as disposable towels, aprons, gloves, and foot covers.
You can even conduct pre-visit consultations on your salon software. If they want to try out anything new with their hair or nails, send them a form where they can fill in the details. Doing early consultations will ensure they spend less time in your salon. Also, ensure the client stays in the same chair for the entire service.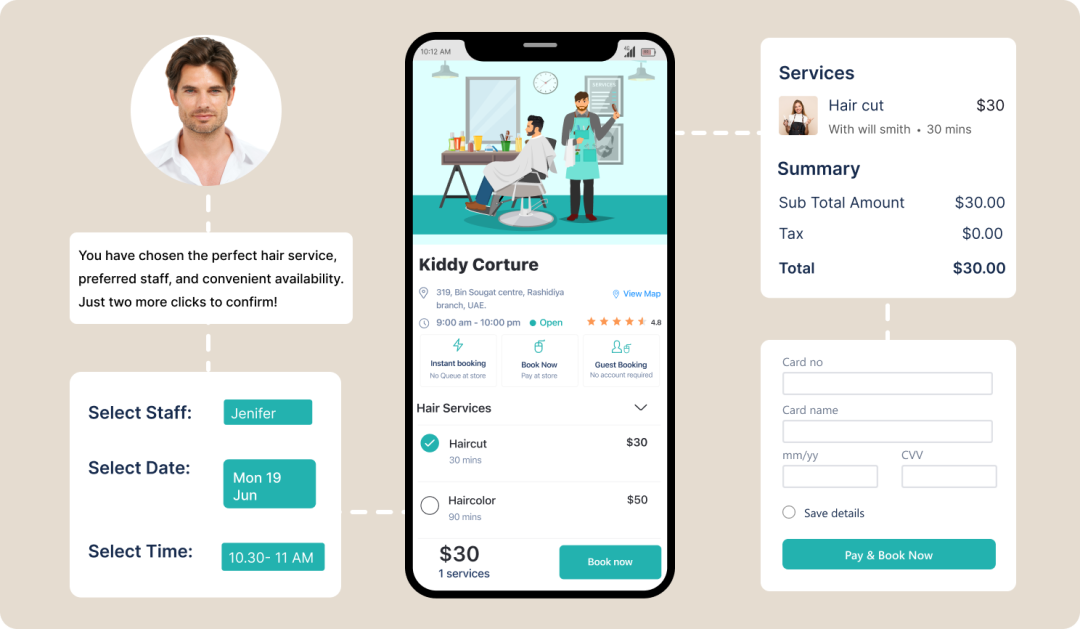 5. Sell Online
The best way to boost the profitability of your salon business during COVID-19 is by selling online. Regular customers would want to stock up on shampoos, massage oils, and conditioners even if your store is closed. You can also sell gift cards and memberships online. This will help clients pre-pay for their future visits and it can be a valuable investment for your business during these trying times. Use your software to securely store card and membership information.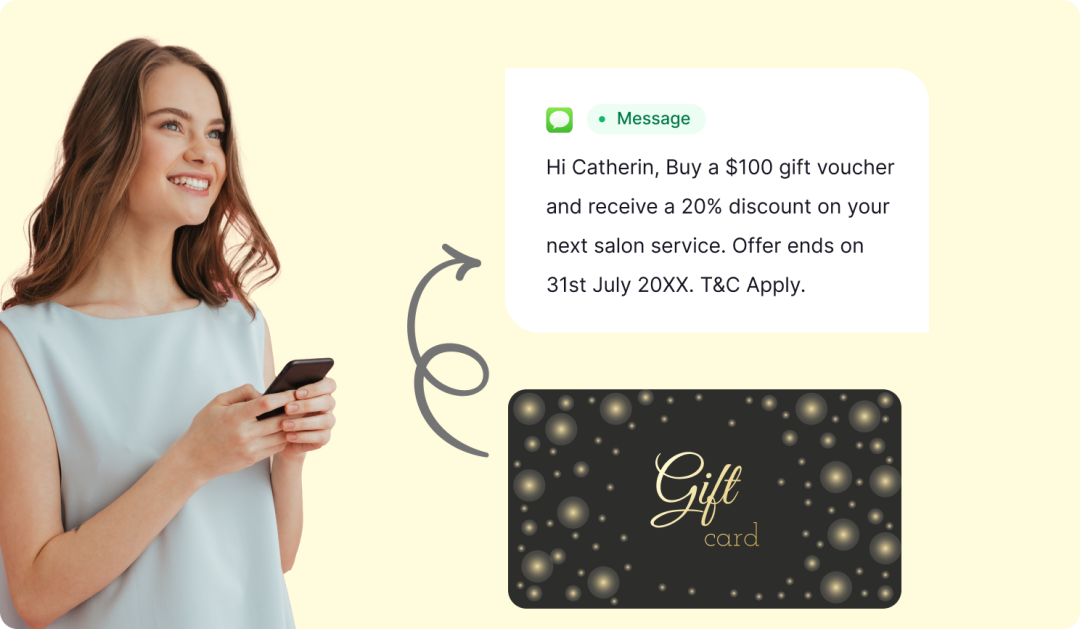 6. Contact-less Payments & Check-out
Switch to contactless, mobile payment options. This reduces the handling of banknotes and plastic money. Encourage your clients to pay via their e-wallets or through UPI. A fool-proof way to manage expenses and ensure swift processing of payments is by using your salon management software. Track trending payments and client credit to minimize the loss towards your business. Integrated payment processing simplifies and expedites checkout. If there are certain customers who still feel uneasy in public spaces, they will appreciate a touchless and seamless checkout experience.
Quick read: 7 Tested Steps To Improve Time Management In Salon
7. Automate Everything
Lastly, automate everything! From the appointment scheduling process to communicating with your clients, take the digital route. Your clients will appreciate you for this. When you automate time-consuming tasks and processes, you can focus on other things which are more important in the post-COVID world.
Future-proofing your salon for the new normal is no mean feat. However, with the above-mentioned tips and MioSalon, hair salon software, the journey definitely seems less daunting. Use these tips to simplify your salon operations. Remember, when you and your staff share the same goal, it will be possible to offer the best customer experience even during COVID and after.