Efficient Salon Operations: Tips with Salon Software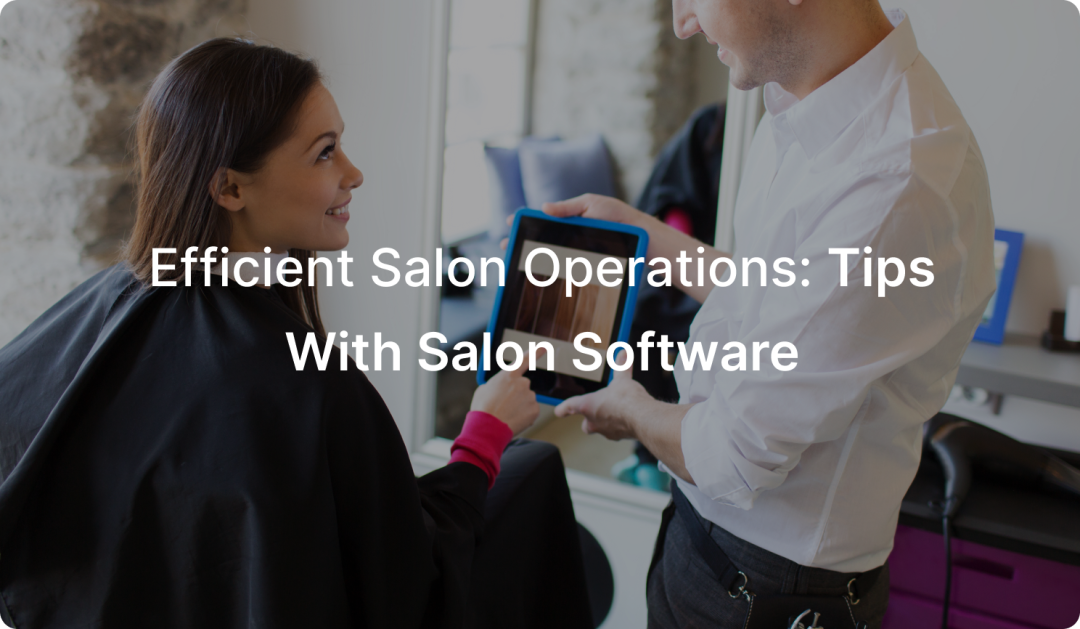 An efficient Salon Software will make their business successful. From having the swankiest interiors to the most experienced team, you've probably churned out a list of goals for yourself, right? Well, you may have the best team or services, but if your business is technologically challenged, your clients might choose your competitors over you. In today's day and age, if you want to increase the profitability and productivity of your business, you should rely on salon management software. Consider it as your new business partner that will streamline operations and help you run daily business processes more efficiently.
Honestly speaking, successful salon owners no longer scribble down appointments or conduct manual inventory checks. Instead, it's all stored on the software that performs daily tasks for you. If managing day-to-day operations has become a challenge, this blog is for you. Whether it's managing appointment scheduling or tackling clients at various locations, the capabilities of salon management software are more than you can imagine.
Table of Contents:
How does salon software simplify daily salon operations
1. Stay on top of Appointment Management
2. Keep an eye on Product Stock & Inventory
3. Create Effective Marketing Campaigns
4. Enhance Customer Satisfaction with an Integrated POS
5. Manage Multiple Locations on the Go
6. Improve the Security of your Business
1. How to Stay on top of Salon Appointment Management
For a business that runs on appointments, you've got to have a systematic scheduling system. It's important that your employees and clients are on the same page with regard to the date and time of the appointment. With an automated booking system, clients can schedule their appointment any time of the day, even during your non-business hours. It makes the entire process a lot simpler which further reduces any scope of errors such as double-booking or no-shows.
Besides this, Salon Software also has a feature that sends out automated reminders and notifications to clients and employees respectively. Here are some distinctive features of the best salon management software that simplifies the process:
➢ Color-coding of different calendar entries and categories
➢ Integrating all calendars so that everything can be viewed in one place
➢ Real-time business management which allows employees to view their schedule when they login
➢ Buffer time in-between appointments for deep cleaning procedures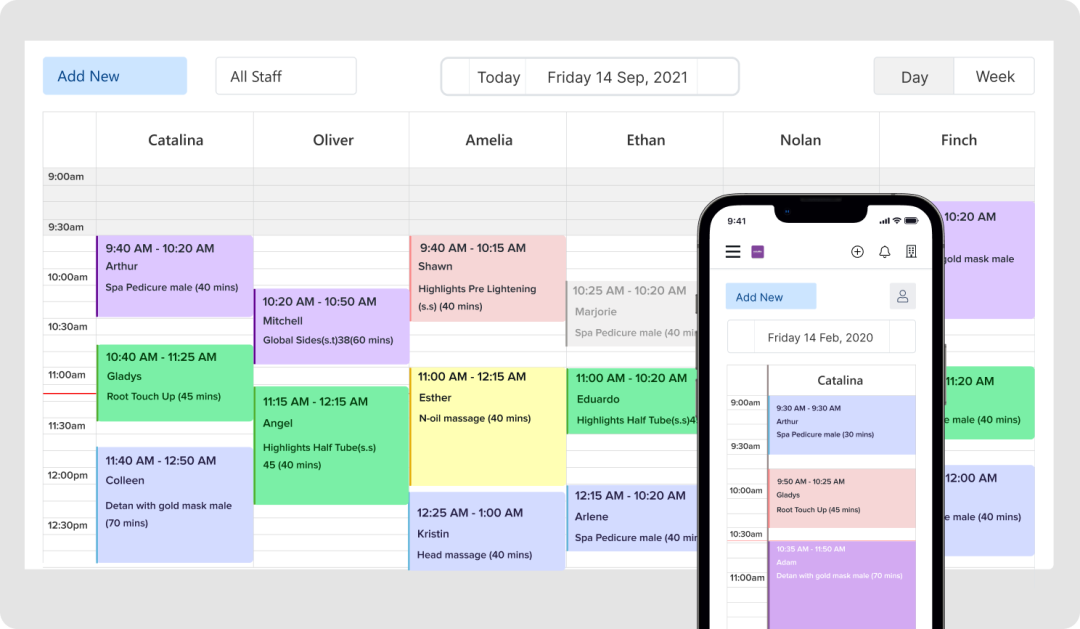 Easy appointment scheduling completely eliminates the need for any kind of human interaction. The time spent on administrative tasks can instead be used on more important salon operations such as hiring or recruitment training.
2. How to efficiently Manage Salon Product Stock & Inventory
An important aspect of managing a salon is ensuring adequate product stock is available for each treatment. Imagine a client comes in for a service and you have no product left. It's not just embarrassing but will also earn you a negative review on social media. To prevent such a situation from occurring, it is important for you to track and manage your inventory. A Salon Software saves you the trouble of counting products manually. It notifies you when you're low on product and stock, and immediately sends out a reminder to the supplier. Reviewing the inventory and ordering products in time ensures you get the best deals from suppliers.
Each time a stylist or technician uses a particular product, they can enter the quantity used and the software will automatically order stock for you when a certain threshold has been reached. It also helps you stay on top of product usage, expiry, and purchase orders. With a robust inventory tracking system, you can definitely run salon operations a lot more efficiently.
3. How to Create Effective Marketing Campaigns for salon
One of the important duties of every salon manager is handling marketing activities. The strategy you implement can make or break your salon business. Thankfully, Salon Software comes with capabilities that can execute automated marketing campaigns for your business. Since the software maintains your customer database, you can even personalize your SMS and email campaigns based on client preference. You can also autopilot notification reminders to the client on their due services.
The software also has pre-set templates that can be customized for your salon and sent to clients on festivals, birthdays, and other special occasions.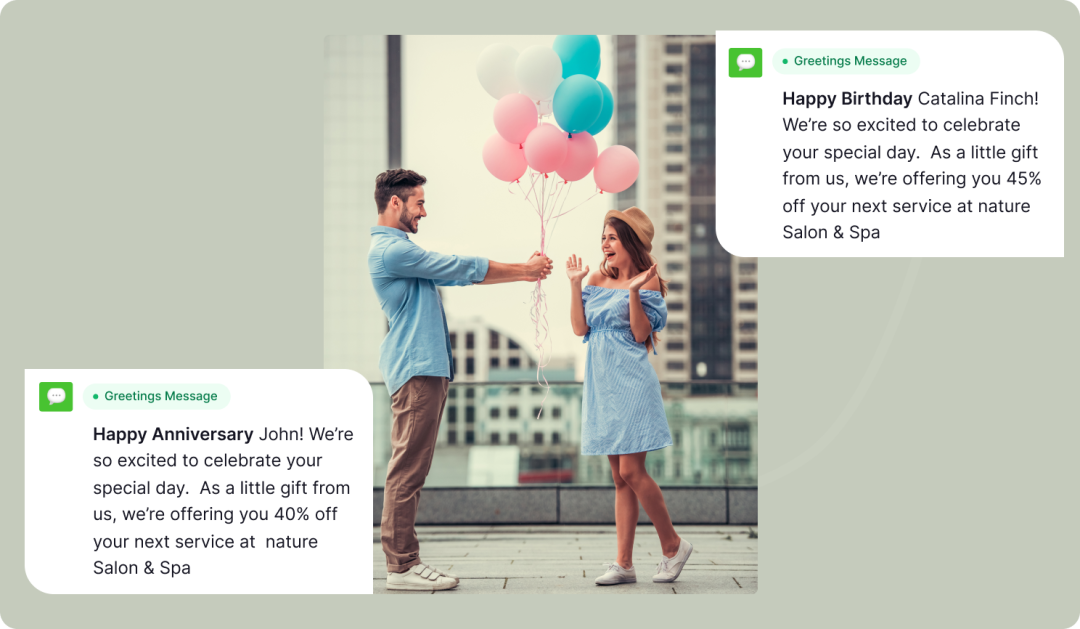 The best part of executing your marketing campaign on your salon management system is that you can also track the responses and generate reports to analyze which campaigns worked and which didn't'. Besides handling communication for your salon, you can also manage the following from your software:
Having all your salon operations and marketing activities in one centralized location using Salon Software definitely brings more flexibility to your business and gives you peace of mind.
4. How to increase Salon Customer Satisfaction with an Integrated Salon POS
A lot of salon owners find client check-in and checkout a huge headache. Instead of handing over invoices and collecting cash payments, switch to a Salon POS System that handles sales transactions, guest check-ins, invoicing, receipts, chair upgrades, and retail product management at the click of a button. These minute daily salon operations can be a tedious task for any salon manager. When these tasks are simplified, the overall business can be handled much more efficiently.
Most salon management systems come with the following in-built POS capabilities:
What are the capabilities of a Salon POS system?
➢ Faster payment checkout to offer a convenient experience for every customer
➢ Ability to collect payments through various modes – cash and card or UPI
➢ Centralized system to track retail sales
➢ Give clients the option to prepay for their appointment when they're scheduling a booking online
➢ Switch to paperless invoices by sending them directly to a client's phone via text message or email
An integrated POS system gives the front desk manager more time to concentrate on other tasks on which the operations of the salon thrive.
5. How to Manage Multiple Salon Locations on the Go
Are you finding it difficult managing multiple salon locations? Well, Salon Software makes the task seem less daunting. Instead of physically being present at every location, a salon owner or manager can handle tasks from wherever they are. The software helps in analyzing inventory across multiple locations, generates consolidated sales and revenue reports of each location, and allows seamless synchronization of stock from one location to the other. Generating reports for each location not just enhances overall productivity but also helps you analyze the total number of hours clocked by every staff member and gives you an accurate understanding of the retail sales too.
6. How to Improve the Security of your Salon Business
If you're still managing everyday tasks on pen and paper, your security is at stake. An important aspect of running your business efficiently is also ensuring it is safe and secure from any kind of malicious activity. When you use salon management software, you're assured of triple-layer security. Client data, payment information, and other confidential information stay safe. You don't have to worry about it being lost in the event of a laptop crash since the software stores everything in the cloud. Every salon employee gets their individual login ID and password to access the software. You can also enable OTP verification for payment checkouts, gift redemption, and appointment booking.
Thus, if you're looking to improve your beauty salon business, MioSalon is the answer. It allows you to promote your business through various channels. Also, it is as good as your business partner since it helps you manage your business effectively. To understand more about the capabilities of Salon Software, take a Free Sign-up.