5 Fathers Day Marketing Ideas Your Salon Should Try!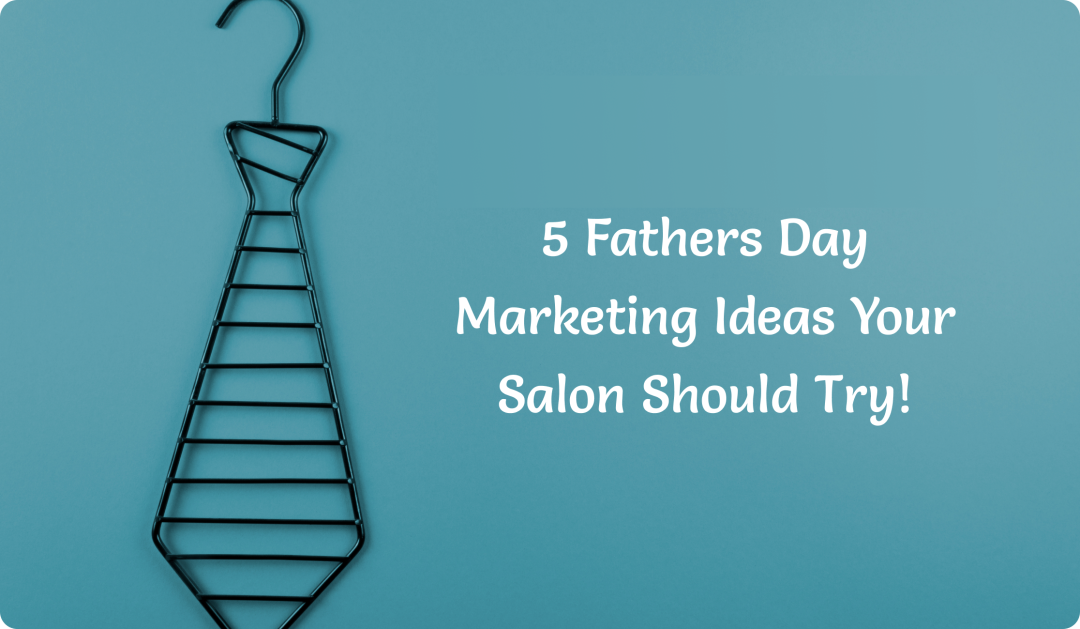 With kids resuming school, parents are often busy during the month of June. Pampering themselves may not even make it to their list of must-dos. While they have their valid reasons, salons and spas experience a slight slump in their business.
The best way by which the hair and beauty business can overcome the patchy month of June is by capitalizing on important days.
With Father's Day around the corner (16th June), how about implementing some strategies that will help you boost sales and make your salon more visible amongst your male clientele?
The first step is to start planning your marketing campaigns in advance. If you've run out of all those last-minute ideas, we have you covered:
5 Fathers Day Marketing Ideas
1. Target female clients:
A common mistake most salons make is that they target their male clients with father's day offers. Always remember, no father will get up and by himself a gift. A survey reveals that women are the main buyers of father's day gifts. Thus, they are your target promotional audience. Skim through your salon management software to get a complete list of all your female clients and start sending out all the special offers you plan to roll out. You need to decide on promotional messages that will entice female buyers. You could even accompany your message with a hashtag like #DaddysLittleGirl.
2. Post on social media:
Once you've narrowed down on your target audience, you need to continuously attract them with content that will appeal to them. Facebook and Instagram are platforms you must concentrate on. A cool way to get your target audience actively interested is by running a contest. You could have a 'Like Father, Like Daughter' contest. Ask your followers to submit endearing photos of their father and them along with a message. Instead of asking them to post it online, you could ask them to mail. By doing this, you can expand your email database and potentially get a new client through the door.
It's important to stand out from your competitors by offering male-oriented prizes. You could create a hamper with grooming products for men along with a discount voucher for future use. This is a great way to make sure they come back.
Besides this, till Father's Day, keep posting content that oozes dad appeal. You could also have some tutorial videos, male grooming myths, and anti-aging tips for dads.
3. Line your products in plain sight:
Most salons these days sell beauty and grooming products for men as well as women. However, very few men are aware of this because most of the time women are seen as the prime target group for retail products. This Father's Day, if you want your male grooming products to sweep off your shelves, place them strategically. Keep the products in a clear view where they're likely to garner maximum client attention. The front desk or the waiting area is a good spot.
Once they've come close to the retail area, they would immediately want access to products that are made for them. If they have to look for all the male products, they're just going to find it a waste of time. Thus, to avoid the hassle of searching for 'products for men', create a bundle. You could create a hair care gift set that includes shampoo, conditioner, and hair gel. You could also attach a personalized note. With this tactic, more clients are likely to make purchases thus boosting your sales while giving them more bang for their buck.
4. Spread the word:
Father's Day sales are only as effective as your marketing. If you really want to see more clients walking through the door, level up your marketing efforts. Create an SMS marketing campaign on your salon software to reach all your clients. To capture your client's attention, send out messages with a clear call to action and online shopping capabilities:
➭ We're excited to celebrate Father's Day at <salon name> on 16th June. Come pamper your father with special deals and a whole lot of fun. Book an appointment <link>.
Also Read: 100+ SMS Templates For Salon Marketing
➭ Happy Father's Day! Pamper your father at <salon name> and avail 30% off on all our services.
You could schedule your messages in advance on your salon management software.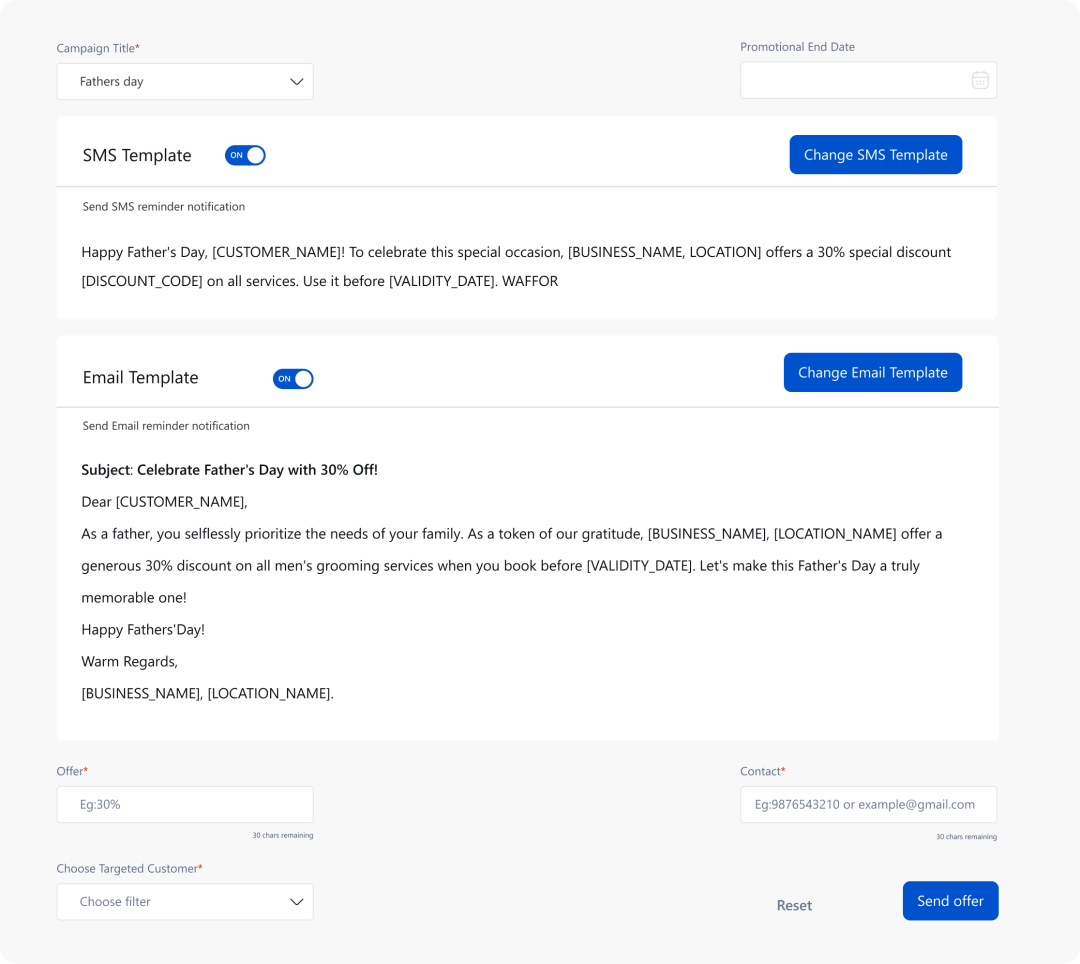 5. Create Father's Day Packages:
Most of the time, daughters do not know which service their fathers will enjoy the most. To make things simple, create a Father's Day package. You could probably have two or three packages for them to choose from. For example, a hair salon can have a haircut, beard trim, and hair product kit together while a nail salon can have pedicure, foot massage, and a male grooming kit to take back home. Make sure you price the packages correctly so that you don't end up giving away too much profit. The trick is to add value. For salons that do not have a retail area, you could even capitalize on gift voucher sales.
6. Focus on bounce-back offers
Once Father's Day is over, your marketing efforts don't end there. As a salon or spa, it is vital to encourage repeat business. You need to constantly engage with your clients and keep them abreast of the offers and specials you run in your salon. Your marketing aim is to turn your Father's Day client into a regular and loyal client. Keep track of your spa software of all the clients that visit you on Father's Day and entice them with offers the next month. After their visit, you could follow them up with the following promotions:
➭ Get 10% off on your pedicure on weekdays in August
➭ Book a 60-minute massage and get a 15-minute foot massage free
➭ Complimentary beard trim with every haircut only for men all through July
Retaining existing clients is an art and it has to be done with extreme care and make sure you turn your first-time visitors into loyal customers. By running such offers, you'll see steady growth in your overall salon bottom line.
Father's Day is just another excuse to make sure your hair and beauty business shines in a good light. Whether you want to create exciting promotional campaigns, remind clients about their upcoming appointments, or retain clients in the long run, MioSalon, salon software, have you sorted.