The Power of Intake Forms: Unveiling Their Vital Role in the Hair and Beauty Business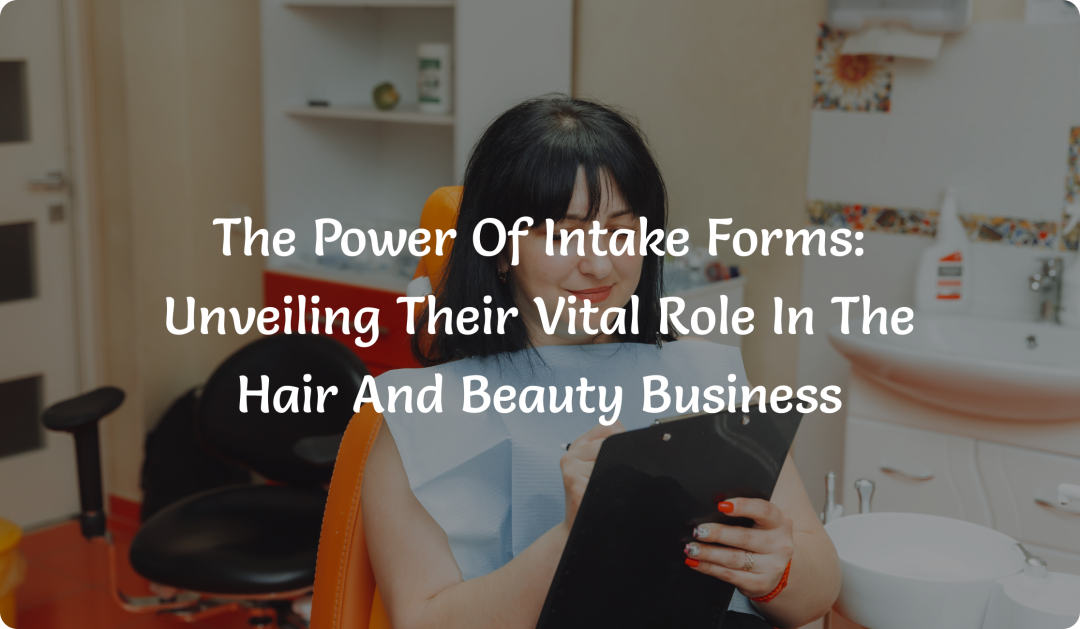 In a Hair And Beauty Business, when a client visits your salon or spa, they instill their confidence in you. Whether it's a skin or hair treatment, they almost believe that you will be able to do it to the best of your ability. While they demand a blissful and relaxing experience, as a service provider it is mandatory to meet those expectations.
Also Read: Steps to Market Your Newly Opened Spa Business
Instead of just communicating with a client about their expectations, getting it written on paper is always a good idea. This will not just help you capture vital customer details but will also protect both your clients as well as your business.
The answer to establishing meaningful communication between you and your client is intake forms or consent forms. It is like an insurance policy for your client. Our beauty salon software makes it easy to create consent forms.
Each time a client steps into your salon or spa, they should be presented with the intake form on your beauty parlor software. It may seem unnecessary and redundant to you but is extremely crucial to your Hair And Beauty Business.
Even if you have seen a particular client a dozen times, it is mandatory to get them to fill out the form. That's because skin, hair, and physical condition can change overnight. Lifestyle, dietary changes, and medications are things that could have changed from your last appointment. That is why it is crucial to ensure that client intake forms are duly filled during each visit.
You might like: Appointment Management: Key to Salon Success
When an intake form has been filled, it is important to date it. Without a date, there is no way of knowing when the previous service was performed. However, if you are using MioSalon, hair salon software, you can automatically track past client history. You can also use this information to personalize marketing messages for your Hair And Beauty Business.
What to include in Hair And Beauty Business client intake form?
Collect basic information
When booking an initial visit for a client, it is vital to collect basic guest details such as name, phone number, and email address. If you have a client joining your membership or loyalty programs, perhaps you can collect some more details such as product and service preferences, birthdays, and postal addresses. All of this helps you reach out to them in the future with personalized marketing messages, relevant deals, and offers.
Pro Tip: Salon Offer Messages & Templates to Maximize Revenue
Offer Personalised services
Beyond basic contact information and demographics, it is vital to collect information that may impact the safety and quality of the services your salon or spa provides. It is important to be aware of their past coloring experiences, and ask them if they have any allergies or if certain areas are sensitive when they get a massage. You could also ask them if there have any other medical issues of which you should be aware.
Additional Resource: The Art of Adding Value to Your Salon Services
By collecting information relevant to the treatment, your salon stylists and technicians can tailor their services to meet the needs of the clients to their best.
Ask for Preferences
Another important point most salons miss out on in their intake form is preferences. It is extremely important to ask the client if there's a particular service provider they prefer. If they do, you can make arrangements to accommodate the request of the guests. However, you must make it clear to them that it may be difficult to accommodate their requests during peak hours. If they're used to the services offered by a particular stylist, ask them to book in advance or to check their schedule on the hair salon software beforehand to avoid any kind of confusion.
Consent is key
Intake forms and consent forms in your Hair And Beauty Business are not only important to meet a client's expectations but also important from a legal perspective. Depending on the treatment you are providing, it is important for your clients to fully understand the process. Surface them with all the relevant information that may affect the outcome of the service. They should not hold your salon/spa accountable if a certain treatment does not go a certain way. Service agreements and consent forms will protect your business as well as your customers.
Also Read: Why Are Intake Forms Important in the Hair And Beauty Business?
As a salon, you would want to send your clients marketing messages from time to time via text message or email. Only so that your clients do not accuse you of spamming them, it is always better to ask them in the consent form if they would like to receive future marketing communication from you. If they've said yes, you could continue sending messages. However, if they do not want to receive such messages, respect their privacy and remove them from your marketing communication database.
Our beauty salon software has an SMS opt-out feature that gives your clients an option to opt out or unsubscribe from the promotional campaigns at any time.
Once a client has answered all the questions in the intake form, double-check with them so that you've understood correctly what's their requirement. Also, make sure your client understands all the price points. You don't want them to be in for a surprise when they have to pay.
Besides double-checking with a client, conducting a patch test is a must. This applies to hair coloring services. Carry out a patch test to check if a client can undergo a particular treatment. If they develop any kind of rash or allergy, this means they are not safe to undergo the treatment.
Research suggests that when a stylist in your salon masters client consultations brilliantly, the rebooking rate, retail sales, and turnover increase.
Also Read: Ultimate guide on how Stylists can master the art of client consultation.
To create intake forms for your salon, spa, or massage center, use MioSalon, the beauty parlor software. From creating questionnaires to collecting & managing feedback, the software makes it possible. You could also select the question types on how you want your clients to answer.
The software also offers numerous customization options such as multiple choices, dropdown, short or long answers, star ratings, and checkboxes.
The forms can be managed and tweaked at any time. Before the commencement of any treatment, you could present the application to the client and ask them to fill it out. By doing this, you can be sure that all information filled is true to the client's knowledge and belief.
Save your salon or spa from getting into any trouble, create and manage client intake forms for your Hair And Beauty Business on MioSalon, today!
Sign-up for a free trial! The process is simple and no credit card is required.