Strategies for Building a Strong Male Clientele at Your Salon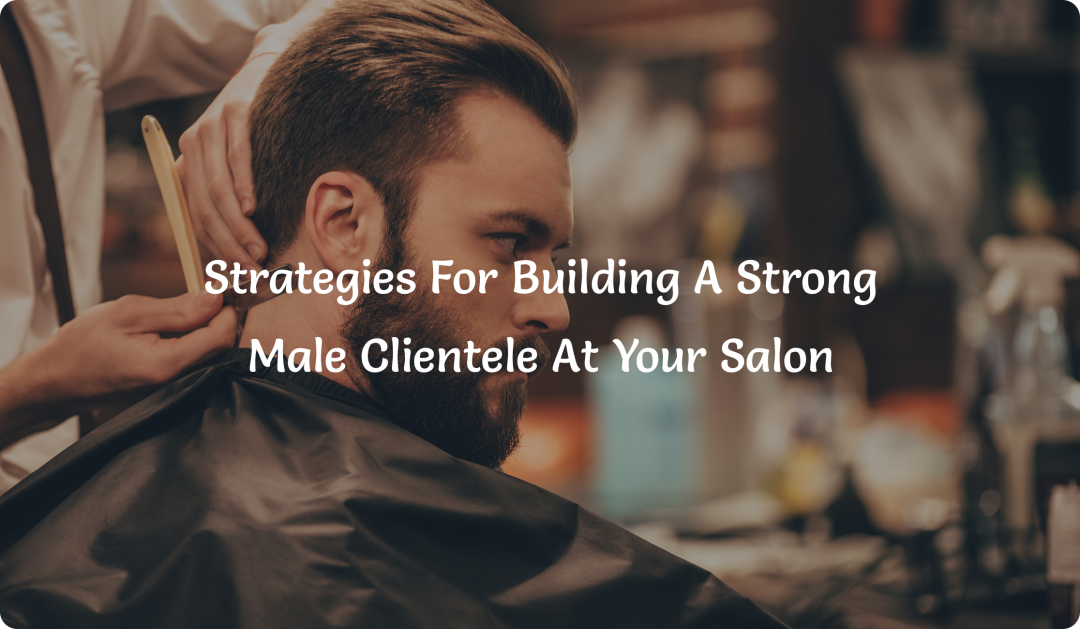 Most salons market their offerings to only one set of clients: women. That's mainly because they feel like the services they avail are more expensive than men. Also, salons are under the impression that women come in regularly to get color touch-ups and are in constant need of treatments to maintain their look. Well, that's a myth. Studies reveal that not just women, but men too have started to care a lot about their overall appearance.
Also Read: Why Every Salon Owner Needs a Business Plan?
They too want to look groomed and thus are ready to spend as much as female clients. Thus, when creating a salon marketing campaign, don't discount men as a profitable clientele. Despite their services being priced lower than that of women, they are more regular, sometimes as often as once in two weeks. Did you know? The global male grooming industry is now estimated to be worth $21.4 billion USD.
You might like: 10 Powerful Salon Marketing Ideas To Get You More Customers
Top Five Tips That Are Sure To Building Your Salon's Male Clientele:
1. Marketing:
A common mistake most salons make is that they only advertise and market to female clients. Instead create marketing messages specifically for your male clients. If you're in the habit of sending out mass emails to all your clients, stop that. You can instead create tailored content that will appeal to your male clientele. Use your salon scheduling software to find out who your male clients are. Once you have a list, start sending content that they're interested in. You can entice them with offers, promotions, and events. You can also run special offers for Father's Day. Capitalizing on occasions like these will fill up your salon chairs. If you are a unisex salon, you need to constantly remind your clients. Therefore, on your social media handles such as Facebook and Instagram, post pictures of a great cut your stylist has just executed on a male client. This brings in a lot more awareness to your specific target groups. Also, don't forget to hashtag the pictures with frequently-searched keywords. The best way to entice your male clients is by constantly showing off. You can also create special grooming packages for men.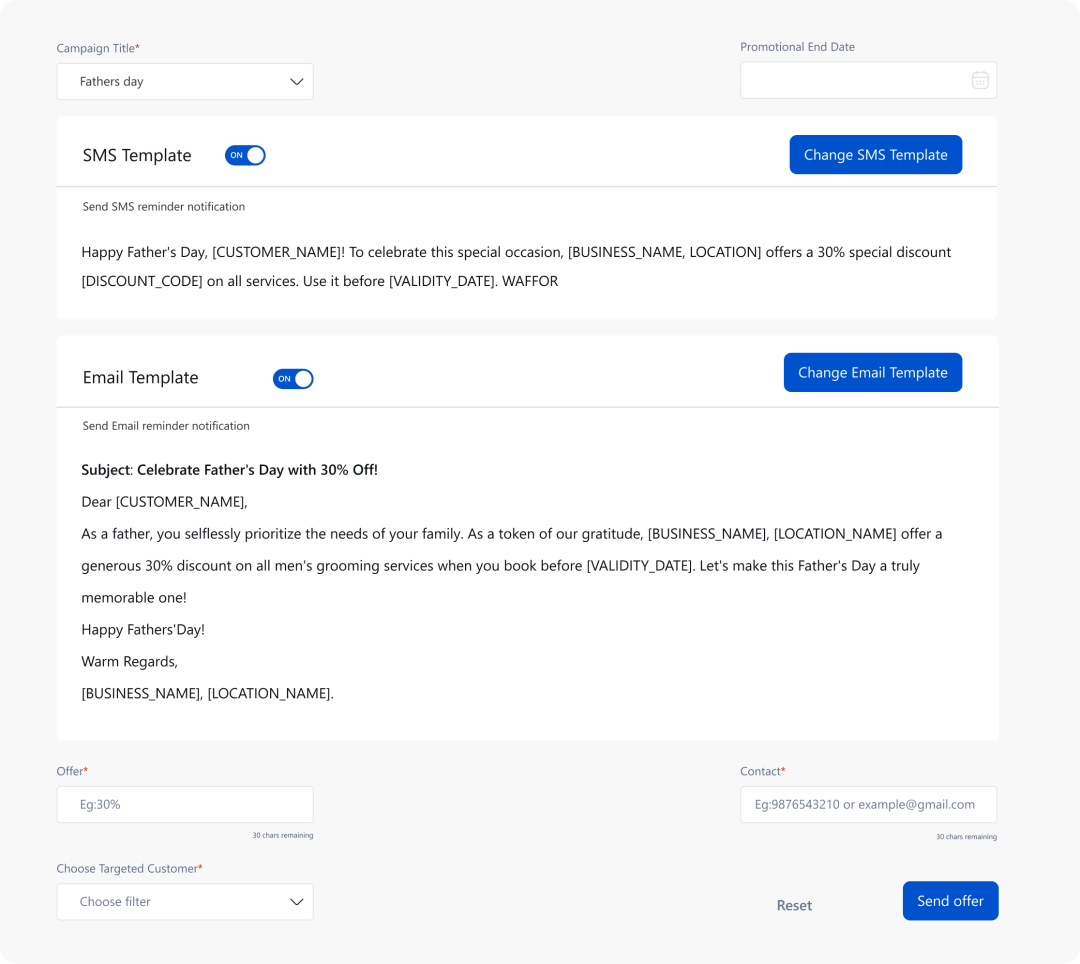 Check this: 5 Fathers Day Marketing Ideas Your Salon Should Try!
2. Walk-ins and pre-book:
Compared to women, men are generally walk-in customers. They seldom make the effort of making an appointment. When they need a haircut or beard trim, they just walk into any salon they see. Considering this trend, you must give them a reason to find you first. Create simple signage that you can hang outside your salon. This is a great way to attract men in the neighborhood as well as pedestrian traffic. Besides encouraging a steady flow of walk-ins, give clients a chance to pre-book their appointments as well. Guys generally have more important things on their minds than a grooming session. Therefore, before they leave your salon, give them a chance to pre-book their appointment. You can also send them text messages and reminders to book their appointments on the salon appointment software. Once they know that taking an appointment is so simple, they are likely to embrace the concept and book prior.
Also Read: 5 Creative Salon Promotion Ideas to Attract New Customers and Increase Revenue
3. Referrals:
You should make it a habit to remind your female clients that you also serve men. Encourage them to bring in their boyfriend, husband, father, or brother. Referrals really work to attract male clients. You can also run a couple of offers that can be redeemed only if women bring their significant other. Once a male client likes your service, there's no looking back because he will become a regular. Every time a female client brings in a male client, reward her for her recommendation.
Most Read: Grow Your Salon Referral Business With Salon Management Software
4. Retail and services:
The best way to draw men to your salon or spa is by creating a menu, especially for them. Under each treatment, you can have a line describing it. Men generally have no clue about treatments and trends. Since they are relatively new to the experience, they require education. You can also give them a complimentary service so that they get hooked on to your salon. This way you can ensure client satisfaction and build loyalty. You can also consider having a dedicated retail section only for men. Nearly 50% of men use styling products for their hair. You can also have an online section on your spa software selling men grooming products. Compared to women, men are the perfect target group for upselling. Therefore, teach your stylists the art of engaging in conversation with a male client during treatment. A casual mention of a styling product will result in a sale. It really works. Once a man discovers what works best for him, he'll most likely stick with it for years.
Also Read: 7 Strategies to Boost Salon Retail Sales
5. Teach your staff:
No matter how hard you try with marketing, it is ultimately your stylists that can draw in male clients. Train your staff to have conversations will the clients while they are in the chair. Post-service, they can even escort them to the retail area and familiarise them with new product launches for men. Most men do not follow a particular hair wash regime. They generally stick to shampoo. Stylists can brief clients on the benefits of following a regime and even suggest a good shampoo, conditioner, and styling product every time they wash their hair. Those who are facing any kind of hair problems will readily take your advice. Following this practice is a great way to boost revenue in your salon as well. You can also plan a client evening only for men in your salon. Most men feel nervous about coming to an all-female environment. Once they are familiarised with the staff and ambiance, you'll see them often.
Also Check: The Best Way To Manage Salon Staff Efficiently
In the quest of attracting female clients, don't forget men. Remember, they are an equally important segment if you want to increase your bottom line and revenue. If you want a fool-proof method of targeting and retaining male clients, consider using MioSalon, salon software.
With the software, you can handle your male as well as female clients. From personalizing marketing messages to creating special offers, discounts, and packages, the software makes communication with your clients much easier than you think.
Try our FREE software here.