5 Signs You Should Invest In Salon Software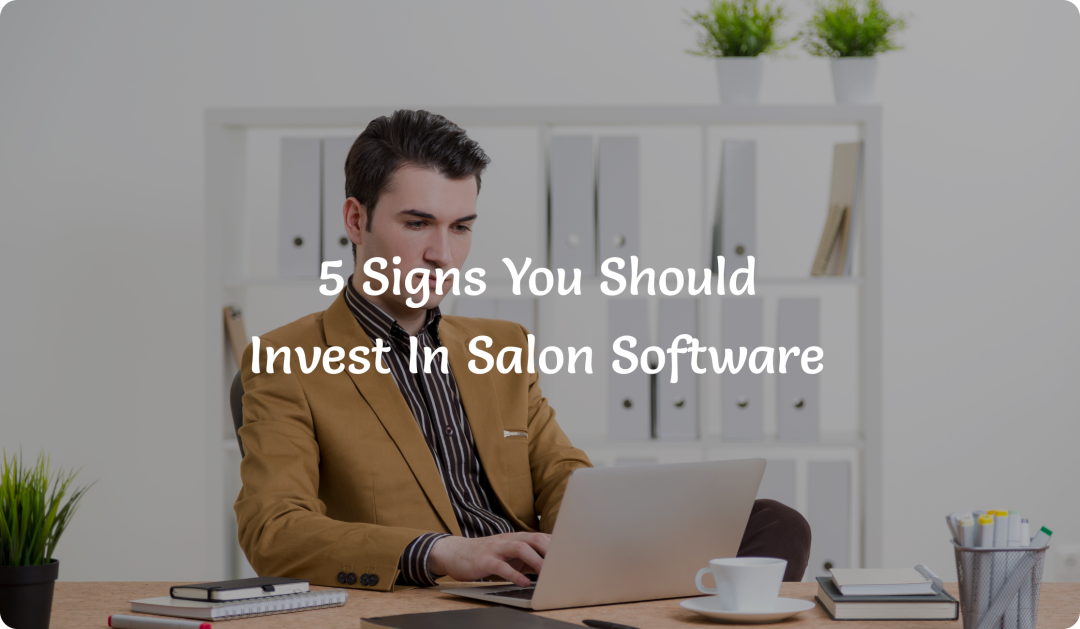 Are you still using old school ways to run your salon or spa? Is it becoming increasingly difficult to manage clients? Well, in today's fast-paced world, technology is a mainstay in every business. With mobile applications, social media and other technological advancements in the forefront, it becomes almost impossible to run a business without a hint of automation.
While many players in the hair and beauty business are reluctant to change, it's probably time they invest in salon software. It also results in a hassle-free online customer booking experience.
For most salons and spas, fear is holding them back from running their business efficiently. However, have you ever stopped and thought about how an automated solution can improve daily operations and manage crucial aspects of your business?
Managing your salon or spa on paper can be downright frustrating. Why hold on to the old when you can build on the new? If you find yourself stuck with any of the following five challenges, it's high time you switch to salon management software.
Table of Contents
5 Signs You Should Invest In Salon Software
2. Admin tasks take up too much time
4. You don't know your numbers
5. You need to optimize your performance
1. Too much demand to handle
Which is the right time to invest in Salon Software?
Most businesses refrain from investing in salon software because they feel like they're still relatively small and don't require such automation. However, it's actually the small ones that need it more than the big ones. If your business is booming and there is not enough time to manage calls and booking requests, you should consider implementing appointment scheduling software. Also, Train your Salon Receptionist to take them from Good to Great. The booking tool gives your clients the opportunity to schedule their appointments during any time. An online booking feature also reminds clients of their upcoming appointments and thus considerably reduces no-shows. It lightens the workload for your staff members and allows them to channel their energies in better ways.
2. Admin tasks take up too much time:
How to easily manage Salon Administration Tasks?
Administrative tasks in a salon just take up too much time. They literally don't allow a salon owner and manager to concentrate on other aspects such as salon events or client retention. This can badly affect the overall bottom line. Also, when accounts and bookkeeping are done manually, there are more chances of human error to occur. The simplest solution to Manage Salon inventory including products, expenses, employees, incentives, and clients is by getting salon software that can do it all in a single solution. MioSalon software ensures you and your team are on the same page when it comes to managing crucial aspects of your business.
3. Your customers want it:
Why is it important to have a salon online booking system?
As occupants of a highly digitized era, it is extremely important to keep up with trends. You are going to be really surprised to know the benefits of using Salon Management Software. Not just in the beauty business but online appointment scheduling is becoming a necessity in many other businesses as well. It makes the process of booking much easier instead of keeping a customer waiting on a busy phone line. This brings immense comfort to a prospective client. If your salon or spa does not have a booking system, clients may opt for your competitors. It can even cost you your loyal customers and that can be a big fall for your business. Thus, it is extremely important to always think ahead of your competitors and take the lead.
4. You don't know your numbers:
What are the things to know before making any decision for your salon?
You cannot expect your business to grow if you don't know your numbers. As a salon or spa owner, it is vital that you're clear about your figures. This will not just help you make important business decisions but also help you identify areas that need to be improved to drive it to success. It's important you know your client retention rates, rebooking rates, and current staff utilization rates. Instead of skimming through your accounts, just check your salon management software. The analytics and reports feature will tell you exactly how your business is tracking overall. From staff performance analysis to securing valuable insights on customer activity, the software has you fully covered.
5. You need to optimize your performance:
Why is it important to optimize your salon's performance?
Once you've set up your business and invested time, money, sweat, and tears, you want to obviously be the best in the industry. Retention marketing is key in getting clients back in more often. You need to constantly show love and appreciation for the clients that spend money on your treatments and products. Did you know? It costs 10 times more to acquire a new customer than to retain one. Implement these Successful Salon Marketing & Promotional Ideas to drive more clients. Salon software can help retain customers that visit your salon or spa. Does it not sound like a worthy investment? When you better your services, you're bound to retain more clients than usual.
Running a business is not hard. As salon owners, we understand that switching to an entirely new system is definitely not going to be easy. However, the beauty of MioSalon, salon software, is that it comes with an amazing stream of dedicated support. At any point, if you feel like you're lost in the maze, our team of experts will be more than happy to help.