Salon and Spa software | Tips to Run a Successful Salon Events 2023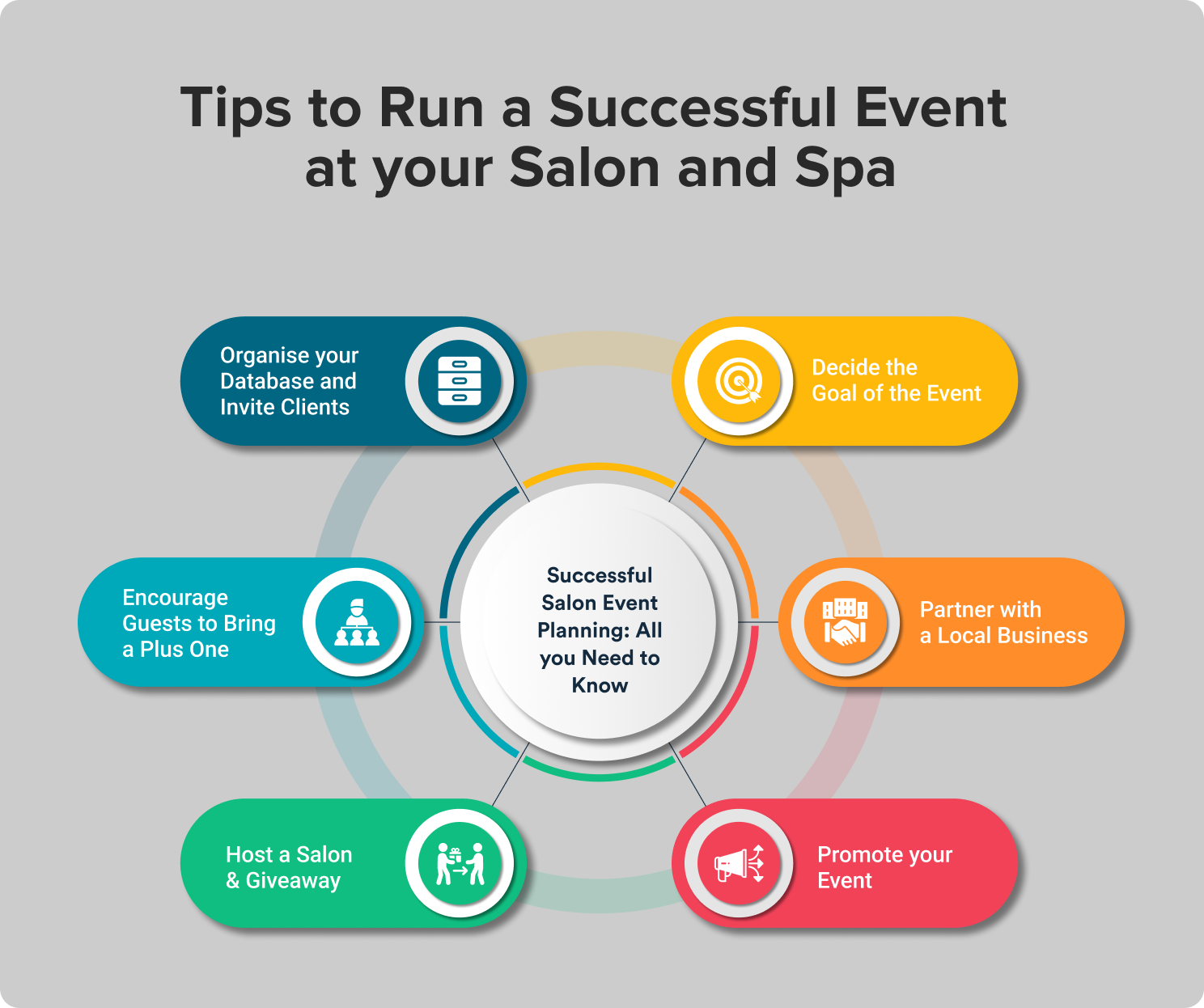 Owning a salon or spa isn't only about serving customers with specific services, it's beyond that. When you meet your clients at leisure and exchange a few words with them, that's when you seriously end up building a relationship. Client retention is all about creating unforgettable experiences. A perfect way to do that is by hosting Salon Events and parties. Whether you have a festive-themed event or a casual evening, hosting a party on your premises can significantly contribute to your overall bottom line. If you're wary about hosting a fun yet memorable evening, fret not. At all times, your salon management software will help you.
Table of Contents:
Successful Salon Event Planning: All You Need to Know
1. Organise your Database and Invite Clients
2. Decide the Goal of the Event
3. Encourage Guests to Bring a Plus One
4. Partner with a Local Business
6. Host a Salon & Spa Giveaway
No event is complete without your clients and VIP guests. Thus, even before you compile the event details, make sure you have a guest list ready. Ideally, most salon and spa events include top spenders on the guestlist. To find out who they are, check your salon and spa software, You'll quickly be able to understand the customers who visit you frequently.
Once you have a list ready, check how you can invite them. Usually, the salon software records client phone numbers and emails which makes it easier for you to invite them. After they're identified, send out the emails for your Salon Events. You can even monitor and track customer responses.
2. Decide the Goal of the Event
When you host a salon or spa event, you don't simply have it to entertain your guests. Instead, it's to achieve a specific goal. For example, a new salon owner might want to have a launch party. The agenda behind this is to let everyone in a specific area know that there is a new salon in town. Similarly, there may be various reasons why one might want to host Salon Events. You can even check your Salon and Spa Software to see if there are any goals you want to achieve. Another fool-proof way to attract new clients to your salon or spa is by having new retail product launches. Everybody loves freebies and sampling new products. These little things you do will help you grow your salon client base.
3. Encourage Guests to Bring a Plus One
Though existing clients are aware of your offerings, you also need to target new ones. When you host an event, encourage your VIP guests to bring a friend or plus one along. This particularly helps if you own a unisex salon. Use this as an opportunity to collect new email addresses. If you're feeling a bit generous, you can even hand out discount coupons to all the guests which can be redeemed on their next visit. This ensures you have clients returning to your salon or spa once the event is over. If they like what you offer, they might even become your clients for life.
4. Partner with a Local Business
To make your client's evening or event more successful, you can even partner with a local business. For example, fashion boutiques, florists, or jewelers. They are ideal partners since their offerings complement yours and vice-versa. When you partner with a local business, you even get to attract their clientele. To make the event more enjoyable, consider having a few short eats. When two businesses get together, you can make the most of your event. Ask every attendee to leave their email address or phone number in your spa management software. This will make it easier for you to connect with them for future salon events.
5. Promote your Event
If you're having a private event, you can simply send out personalized messages and emails whereas if the event is open to the public, you should be promoting it across all platforms. You can run all your marketing activities from your salon and spa software. Think Facebook, Instagram, and Twitter. You can even add a banner to your website homepage, and add signage outside your salon or spa premises. If you're hosting a niche event for special guests, consider sending them a physical invite with a few beauty products and some flowers. The choice is yours and the options are limitless. To make it an event to remember, think outside the box.
6. Host a Salon & Spa Giveaway
If you wish to tempt your hair and beauty clients, consider having a generous giveaway. You can host contests on Facebook, Instagram, and other social media platforms. If you don't want to burn a hole in your pocket, tie up with local business partners. They can give guests samples, promotional vouchers, and other giveaways. You can even collaborate with your suppliers, and give your clients gift cards that can be used in the near future.
Hosting special events is a good time to mix, mingle and engage with existing as well as new clients. Once your event is over, remember to send every client a personal thank-you note. You can even send an e-newsletter that highlights your exclusive hair and beauty offers.
After organizing salon events, if you have new clients coming in for various services, it means the intent of your event has worked. You can always review the success using MioSalon, salon and spa software. It is specially curated for the beauty business. Use the software to see how many new email addresses and mobile numbers you have collected. This database can be used to send out first-visit offers by text or email.
To place a demo request, visit https://www.miosalon.com/request-demo.