Fail-proof Ways Of Easter Marketing Ideas For Salon!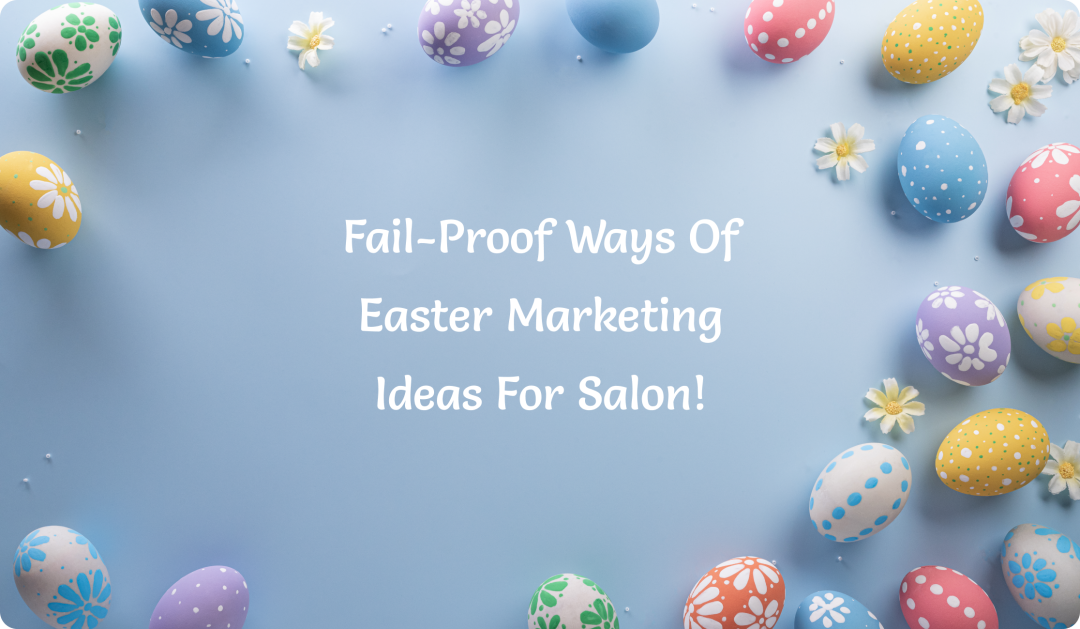 As a salon owner, implementing Easter Marketing Ideas for your salon on Easter time is mandatory. It is important to use holidays and special occasions to your marketing advantage. Your clients love it too when you pamper them a little extra these days. Well, Christmas isn't the only holiday that you can use to your marketing advantage. With spring and summer knocking at our doors, think about using holidays like Valentine's Day, Women's Day, and Easter for your salon and spa's financial gain.
For the beauty business, Easter is one of the busiest times of the year. If you are looking to capitalize on some massive sales, this is the time. Whether it's an Easter brunch or a community gathering, people want to look their best. And, for all these grooming services, they are bound to turn to your salon. During this time, there is no surprise that salons significantly witness a spike in their business.
We've Got Some Top-Notch Easter Marketing Ideas For You:
1. Presentation And Decoration:
What's the point of running an Easter Marketing Ideas if your salon doesn't look Easter ready? When a client steps into your salon, it should make for a great visual representation. Christmas isn't the only time of the year when decorations are king. Easter is a bright, exciting day that brings with it a whole lot of colors, images, caricatures, and of course, everyone's favorite thing – Easter eggs! Dressing up your salon or spa doesn't have to be a full-fledged interior design overhaul. Just a few Easter-themed decorations can go a long way in making your clients feel festive. It's a good idea to purchase some colorful baskets to show off your retail products. You can place them on a stack of hay and just toss some Easter eggs in. When you are creating an Easter vibe and aesthetic, don't forget to put some Easter bunnies as well.
2. Consistency Is Key:
Once you've established an Easter theme in your premises, it is important to maintain the same in your other forms of communication as well. Your website, social media pages, emails, gift vouchers, and window signage should also have a similar aesthetic.
3. Customize Packages:
As mentioned earlier, Easter is a time when customers want to pamper themselves. Instead of them choosing the services, bundle up the most availed services in different packages. You could also use some fun Easter puns while naming the packages. Example –'Eggciting offers'.Easter-specific deals, promotions, and packages make your clients feel like you truly care about them. Promote your packages on your salon software and use email, text messages, and social media to your advantage. The duration of running the offer is solely your discretion. However, we would recommend running it throughout the April holiday season.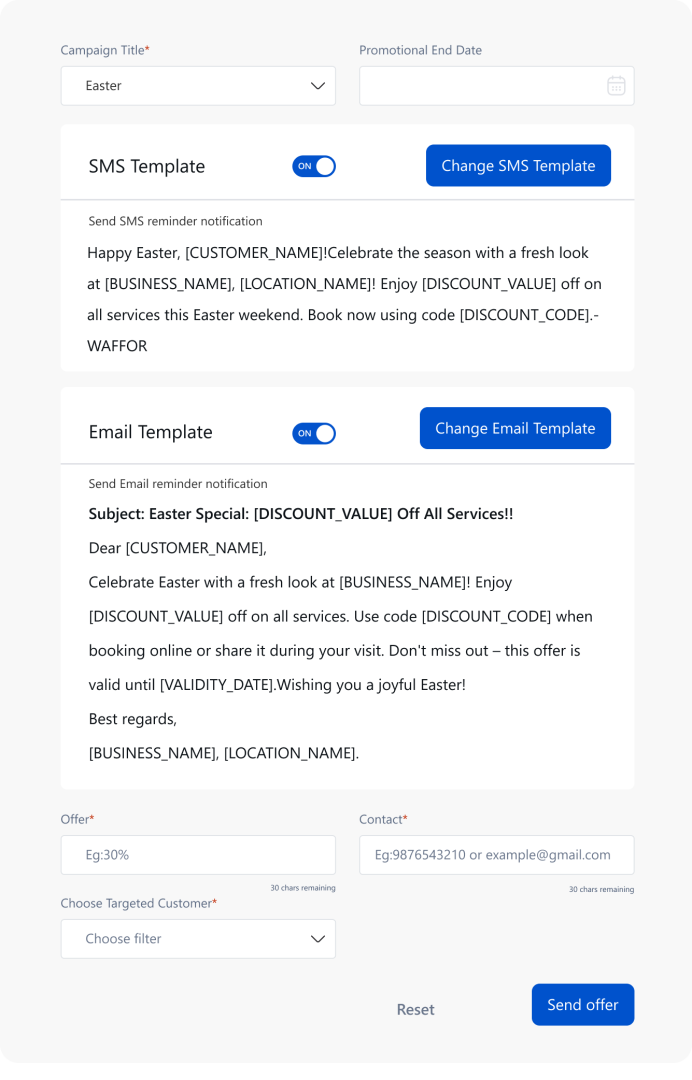 4. Plan An Easter Egg Hunt Event:
Everyone knows that Easter is all about kids. How about asking your clients to bring their kids along? Remember, kids can be annoying to other customers. Thus, plan something creative. Organize an egg hunt for the little ones in a corner in your salon so that they can stay busy while their mum gets their face and hair done in peace. You could also create little goody bags for the kids to take the bag. Use this opportunity to hand out discount coupons to your clients on their next visit. This is a great way to encourage repeat business. You can organize the event a week before Easter and intimate all your clients via email and text message. The best way to store your client database is on your salon management software where you can get a fair idea of who is your active and inactive customers. Once you've shortlisted a few names, start sending out your Easter-themed promotions.
5. Share Your Easter Themed Photos:
Social media should be an integral part of any business's marketing strategy. Since clients spend most of their time on sites such as Facebook and Instagram, use this as an opportunity to market to them. To rake in those big profits, create an Easter photo booth in your salon. Every time a client gets a blow dry or some cute nail art, get them to pose in the photo booth and click some chic pictures of them. Ask if you could post them on your social media handles. Once you start posting the images make sure to have relevant hashtags such as #HappyEaster, #EasterSunday, #EasterEggs, and so on. By creating Easter-inspired content, you get to engage with your existing as well as potential clients. When people know you are feeling festive, they are more likely to drop into your salon or spa. You could also buy some Easter props to give your photos a fun element. However, don't go overboard. You can also DIY (Pinterest to your rescue).
6. Contests And Giveaways:
To generate interest and interaction on your social media pages during Easter, hold contests. You can look up the internet for some Easter trivia and facts. Ask the entrants a few questions and offer the winner something in return. Make the content look appealing. This is an easy way to boost engagement. As more and more people share your contest post, you'll see submissions rolling in. You can offer the winner gift cards, vouchers, free treatments, discount coupons, retail products, or a goody bag. Everyone loves to win a little something, so here's your opportunity to make the most of this moment.
Now that you've worked hard on your Easter planning and promotion, it's a shame if you don't let your clients know. MioSalon, the spa software, has a whole lot of email and SMS templates you can send out to your clients. You can also generate reports to see which clients have responded and which haven't.
The underlying objective of every holiday promotion is to get in touch with clients. It's a fun way of reminding them that your salon or spa is still in the business. Let them know you are running a few holiday specials. If your promotion is truly irresistible, they'll definitely drop by,
Not a MioSalon client? Request a demo for our software today and see how your salon and spa can uncover its golden egg and retain clients like never before.