Impactful Beauty Salon Marketing Tips To Beat Monsoon Woes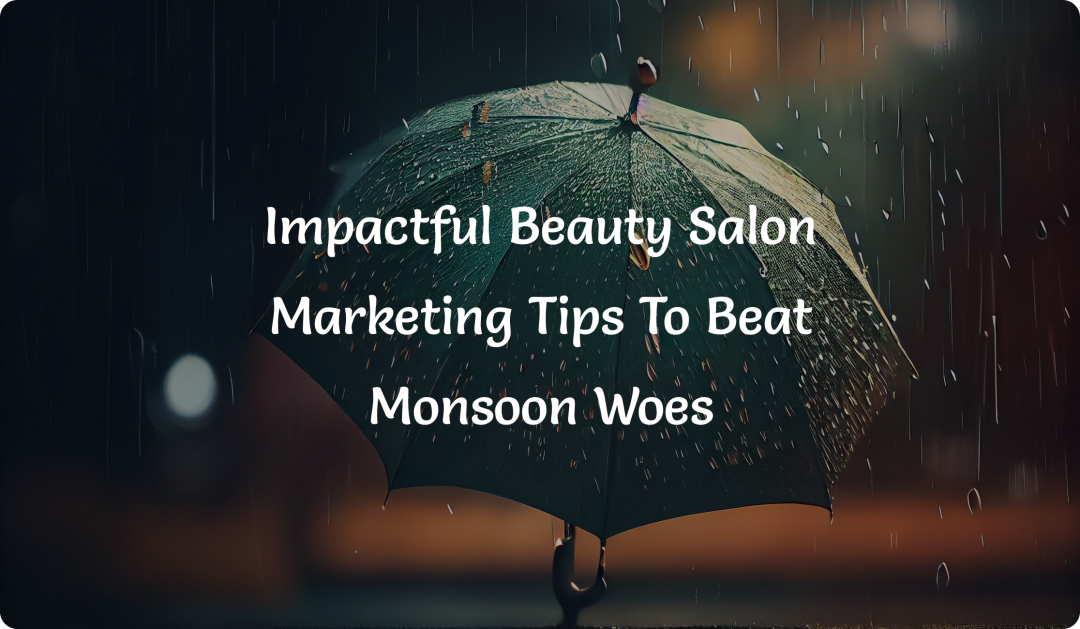 Monsoon Beauty Salon Marketing Tips
Beauty Salon Marketing Tips are really important for better salon marketing. The beauty business is such that facing slow periods is all part of the game. Let's face it, all salons or spas have at some point in time experienced slow days, weeks, or even months. Monsoon months are usually the slow season for the beauty business.
While it brings respite from the heat for most people, it in no way brings respite to the beauty business. Due to the continuous downpour, clients are more reluctant to step out. Also, most clients fear that a nicely set blow dry will go in vain in case they're a victim of heavy rain.
However, what you intend to do during this slow time is critical. It's in your hands to make a difference in your business. You need to send out Salon offer Messages to stand ahead of your competitors. Making sure your cash flow runs smoothly takes some thoughtful Beauty Salon Marketing Tips and tactical approaches.
Tips To Overcome The Slow Period In Your Salon
In this blog, we've discussed seven tips you can utilize during the monsoon period to beat salon woes.
1. Increase Your Pre-Booking:
It's a good idea to ask your clients to book their next appointment while they're leaving your salon or spa. Train your front desk manager to always ask the client if they'd like to pre-book their next service. You should also train them in upselling which can result in better sales and ultimately revenue. When appointments are booked in advance, it gives the salon an edge to manage their time better. All appointments can be recorded on the salon beauty parlor software. Once the appointment has been recorded, the client will receive automated text messages and emails prior to their visit. Doing this will prevent uncertainties, no-shows, and double booking. It also gives a salon the assurance that even in the rainy season; they have a fair share of bookings.
2. Salon Specials And Promotions:
Rewards and incentives always work as they're a great way to bring clients into your salon and Beauty Salon Marketing Tips is much needed. To keep the gloominess of the monsoon season away, how about introducing monsoon-friendly services and promotions? Keeping in mind the monsoon-borne allergies, it's a good idea to introduce special manicures and pedicures that are anti-fungal in nature. You could also introduce massages at special prices. When clients see that you're being topical and seasonal with your services, they're more likely to drop by to avail themselves. Share these special promotions and packages on your social media pages, salon software, and website. This will definitely boost a client's mood after a long summer as they prepare for the next season. Know about Salon Loyalty Programs.
3. Dirt Alert:
Keeping in mind the monsoon season brings with it a whole lot of dirt and grime, a lot of clients prefer analyzing the cleanliness of the salon or spa before availing of their service. Thus, as a salon owner or manager, it is your responsibility to ensure your surroundings are clean and dust-free and in maintaining everyday Upkeep on your Salon. Keep two or three-floor mats at the entrance to ensure no dirt comes in with a client's footwear. Conduct regular meetings with your housekeeping team and emphasize on the importance of cleanliness, especially during the monsoon season. Apart from the regular mopping and hair cleaning sessions, incorporate an advanced cleaning too at the end of each day.
4. Staff Hygiene And Salon Ambiance:
During the rainy season, your salon and spa staff should be advised to maintain adequate personal hygiene by keeping themselves clean and wearing clean and dry uniforms. In fact, they must be given an extra uniform for emergency wet situations. It's quite natural that during the monsoon your salon begins to smell a bit off. The best way to deal with this is by having aromatherapy candles and room fresheners throughout the salon floor. You can also have anti-fungal tablets at random places that will absorb environmental bacteria and keep the atmosphere fresh and clean.
5. Client Cleanliness:
During the rainy season or downpour, every beauty service must be treated as a medical service. Instead of using towels, switch to tissues. Make sure your gowns, spatulas, and masks too are disposable. This keeps the transfer of infections and allergies at bay. Owing to a large number of seasonal ailments during this season, train your staff to wear masks while performing threading and facial treatments. Following adequate salon practices can easily prevent severe issues with clients. Also, you need to be extra cautious that all your pedicure and manicure tools are washed and sterilized several times before every appointment. The best practice is to leave them in the sterilizer to make them use-ready and germ-free for the next session.
6. Offer Free Umbrellas For Rainy Days:
Nothing can get worse than getting a fresh hairdo and walking into the rain with no umbrella. An ideal way to achieve a competitive edge during the monsoon season is by offering your clients free umbrellas. Stock up on a few reasonably priced umbrellas and every time you see it raining, you can always offer them to your clients to protect them and themselves. In case your salon budget permits, you can even get your salon branding on the umbrella which will further boost your sales and revenue. Each time someone on the street sees a client with your salon-branded umbrella, they're more likely to notice it and drop by. This immensely increases your salon exposure. Offering free umbrellas is a great practice and is above-and-beyond customer service. Such thoughtfulness will enhance your client's experience and make it clear that you truly care about them.
7. Host Private Events:
Another great way to get new customers to your salon during the monsoon season is by hosting events. It's a fool-proof idea for your space and gets innovative. Instead of opting for large groups, start with five or ten clients. Create a fun environment by hosting such events every month throughout the monsoon period. Utilize your spa software and send out invitations to all your existing clients. In addition to providing great monsoon discounts and deals, offer them a free glass of bubbly, short eats, and some cookies. The little things you do during the monsoon to make your clients feel better can make all the difference.
It's never too late to have a good Beauty Salon Marketing Tips
eady during the slow period or monsoon season. Every successful business starts with creative ideas and a little hard work is all it takes to tackle the slump in your sales. We're sure that following the above tactics will keep your salon's sanity maintained and ensure a revisit of your client; not only during monsoons but all the year-round.
If you are a salon, spa, or massage center looking to get through the rainy season like a champ, invest in MioSalon, salon software. From optimizing your client appointments to making it easier to create special packages and discount coupons, the capabilities of the software are much more than you can think.
FREE version awaits you Signup here!