The Vital Role of an Inviting Beauty Salon Reception Desk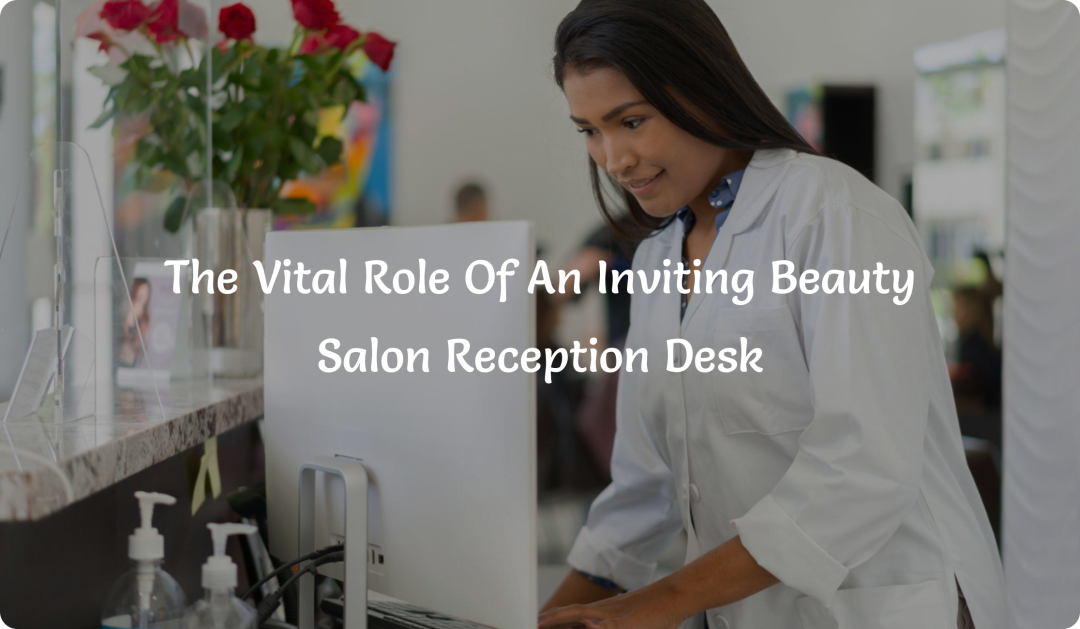 The Beauty Salon Reception Desk is the area where most first impressions are created. It is literally the face of your salon. A messy and cluttered reception is uninviting. The furnishings and décor you choose must reflect your brand ethos. You want it to inspire a sense of calm or chaos is completely your call.
Remember, within the first 10 seconds your new clients will decide whether they will be back for another visit or not.
When designing an inviting Beauty Salon Reception Desk space, put yourself in the client's shoes. Chances are they will be in either of the two mindsets –apprehensive about a new treatment or looking forward to unwinding and relaxing.
Regardless of where your salon is positioned and which niche market it caters to, a client's first impression is crucial and thus all salon owners must put in immense thought when creating a front desk.
Tips For Creating An Inviting Front Desk Within Your Salon
1. Ditch The Clutter:
Don't think that a client passes through reception only while walking in and out of your salon. In case a therapist or stylist is not ready for them, they may have to 10-15 minutes. During this time, they look around and make observations. Though they may not express it overtly, in their mind they definitely judge how your reception area looks. If you want them to say good things about you on your salon management software, keep your Beauty Salon Reception Desk space tidy. Delegate the responsibility of keeping the front desk clean to a member of your team. Another way of ensuring your front desk is free from loose sheets is by going paperless. Whether it's managing appointments or tracking the inventory, you can do it all on your salon management software.
2. Stack Some Magazines:
Keeping a client waiting for too long can definitely annoy them. However, if they've walked in early for their appointment, don't just let them sit and get bored. They may want to flick through a magazine or two. Therefore, stock up on the latest issues of beauty, fashion, and lifestyle magazines. Selecting appropriate magazines and coffee table books is important. Here's another point we would like to make. If you plan to have more than five magazines, don't let them lay on a table looking untidy and dog-eared. This is extremely uninviting. Store them effectively by getting a magazine rack. Most salons keep magazines one on top of the other making it look like a heap of garbage. Don't do that!
3. A Calming Retail Area:
Most clients look at a salon session as a time to unwind from everyday stresses. You need to partake in this by making it an experience for them to remember. As they enter, be courteous and settle them down if they are your old customers or show them around if they are new. Ask them what you could get them. Whether it's tea, coffee, or water, they will definitely want something to relax. In close proximity to the waiting area, you can have a well-stocked retail counter. Use this as an opportunity to merchandise and sell your products. The footfalls are highest here and just by adopting a clever strategy, you can maximize profit for your salon business.
Also Read: 7 Strategies to Boost Salon Retail Sales
4. Ambiance And Mood:
As a salon owner, you need to take time to gauge how warm or loud your Beauty Salon Reception Desk area is. Your front desk should literally radiate good vibes. The tone, atmosphere, and mood you set will determine whether a client feels relaxed and welcoming. Ask yourself if you would want to sit there. Firstly, it is important to make sure the seating is comfortable. Typically, most salons opt for a coffee table and two chairs, and a sofa. Don't have too much furniture. Besides this, pay attention to minute details. Make use of fresh flowers (probably with a calming fragrance), paintings, and wall hangings. Artwork in a salon just sets the whole mood. Another way to create a lively yet soothing ambiance is by playing some soft music. Doing this will make your clients feel invited and welcomed.
Also Check: Creative Ideas to create an Inviting Spa Ambience
5. Tech Support At Your Front Desk:
Today, technology is shaping the salon business. The use of technology makes life better not only for the patrons who support you but for better salon management as well. Every reception should have salon management software. In the day-to-day salon business, there is a myriad of activities a salon owner and their team has to manage. Making detailed notes of everything can pose as a challenge. Therefore, the best way to simplify daily operations in a salon is by incorporating software. Whether your clients want to make a booking online, check your salon menu, or give feedback, they can do so on the software. Besides salon management software, salons must consider getting an all-in-one point-of-sale system. Payments are the crux of your business. A dedicated device to handle payments and sales will help you stay organized.
6. Meet And Greet:
Lastly, the most important person in a salon that creates an inviting atmosphere is the person behind the Beauty Salon Reception Desk. Yes, we are talking about your salon receptionist. He/she is responsible for greeting customers and making sure they get comfortable. Three important characteristics every receptionist must have to include organizational skills, team spirit, and phone etiquette. They must be trained adequately in body language and people skills. They must also have complete knowledge about the various treatments a salon offers.
Most Read: Why One-on-One Meetings are the secret to Motivate Salon Teams?
If you are a salon owner that wants to increase customer experience, attract new customers and maximize your revenue, get yourself MioSalon, salon management software.
With so much competition in the beauty industry, your clients constantly judge you on the choices you make. Despite having the best-looking salon, there's no point if you are backward in your approach. So maintaining a good Beauty Salon Reception Desk is important MioSalon is incorporated with features that simplify day-to-day operations. It also helps manage reports, analyzes performance, and engages with customers. To start your FREE trial, visit https://www.miosalon.com/signup. Whether you own a beauty salon, hair salon, spa, or health and wellness store, our salon management software is the solution for your business.