Top 7 Amazing Benefits of Salon Booking Software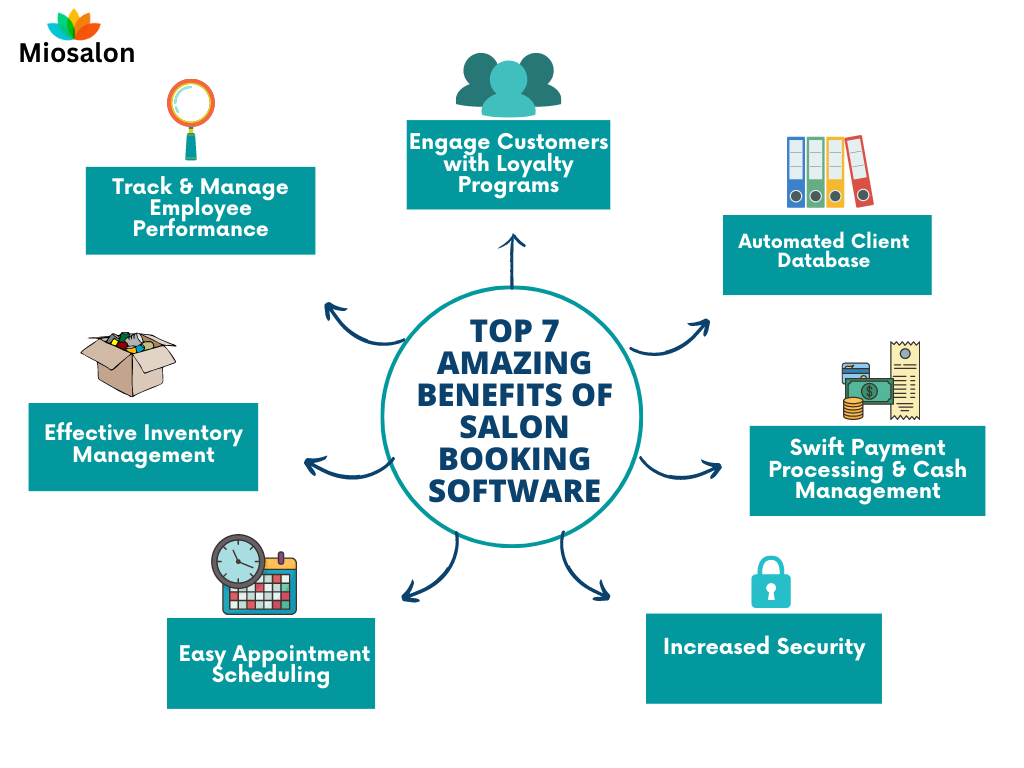 There is no debate about the fact that technology is playing a large role in our everyday lives. Whether it's for personal or professional use, we all use technology on a day-to-day basis. The salon and spa industry are no exception. There was a time when the salon manager would note down appointments in a large register. Well, though there are some salons that still follow this age-old method, most of the others have grown out of it. As occupants of a highly digitized era, everything today happens at the touch/click of a button. People desire automation in every process. Thus, a few years ago salon appointment software made its debut. Ever since then, things have not been the same. Salon operations and procedures are handled a lot more seamlessly and the owners too are witnessing better return on investment.
Table of Contents:
Top 7 Benefits of Salon Software for your Business
1. Easy Appointment Scheduling/Simplified Booking Process
2. Effective Inventory Management
3. Track & Manage Employee Performance
4. Engage Customers with Loyalty Programs
6. Swift Payment Processing & Cash Management
Top 7 Benefits of Salon Software for your Business
If you're in a quandary about whether to invest in salon booking software or not, you should now. It's worth it in the long run, and your clients and vendors will thank you for it. Beyond taking appointments, the software has a lot more potential. It enables salon owners to run their businesses more efficiently.
1. Easy Appointment Scheduling/Simplified Booking Process
Since salon appointment software is an automated booking system, clients can schedule their appointments at any time of the day, without any help. It enables them to book a slot 24/7, even during non-business hours. Easy scheduling allows a client to check the calendar availability and book their preferred slot. It requires no middlemen. Once they confirm their booking, they immediately get a confirmation message.
Having an online booking system for your salon or spa reduces cancellations, and prevents overbooking and no-shows. Salon owners can add their booking widget to their social media pages and website and clients can schedule their appointments here from their own device/mobile.
Studies reveal that clients tend to spend more if a business adopts salon appointment system. This is because when a client is booking online, they get to see the entire salon menu contrary to when they're booking on the phone. They have more options and might get tempted to book another service. For example, if a client is making an appointment for a pedicure, they might consider a manicure as well.
Thus, besides promising quick engagement and accessibility, an online booking software promises enhanced revenue for the salon too.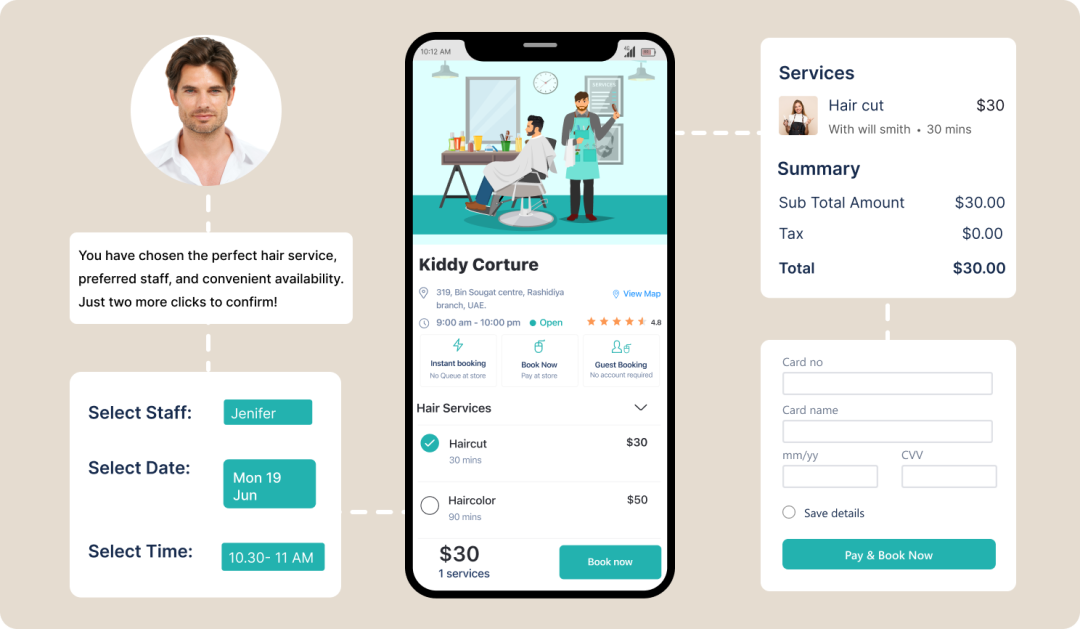 2. Effective Inventory Management
Whether you own a hair salon, nail salon, or spa, you're likely to stock up on several products that can be used for a particular service. Keeping track of minimum stock levels is no easy task. That's where a salon management system comes in. Gone are the days when companies would manually manage inventory. Today, it all happens on software. You get a better idea of which products are being used up quickly and which need reordering.
Imagine this… you're about to service a client and realize that a particular product is over. This can be extremely embarrassing. To prevent such situations, most salon owners today are switching to inventory management software to manage product stock levels.
Each time a product is being used for a service; the stylist needs to enter the product quantity being used. Once the product is about to get over or expire, the salon owner or manager will be immediately notified. This system ensures that a salon or spa never runs out of product again. It's seamless and highly efficient.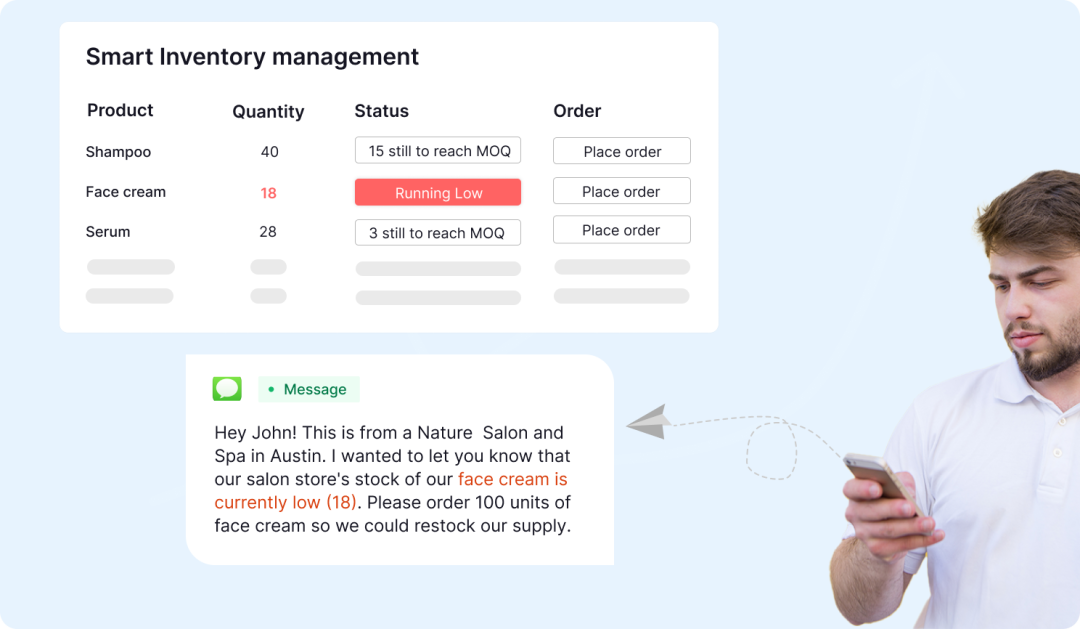 3. Track & Manage Employee Performance
No salon or spa business can operate without its employees. They are the people who make a client happy by giving them a great haircut, hair color, or dreamy nails. To an outsider, yours might seem like the perfect salon. However, you are the one who knows what goes on behind the scenes. Managing salon staff is no easy task. From assigning appointments to tracking their performance and progress, you have a lot to do. Thankfully, hair salon software streamlines this process as well.
Make it a point for employees to log in each day and record their work reports at the end of the day. Capturing the attendance of employees electronically gives you a chance to track their work progress in real-time. You can even set up a system for every stylist to get intimidated via SMS each time a client books an appointment with them. An online booking system ensures that every employee's time is used to maximum advantage. At the same time, salon owners to don't need to be physically present to monitor employee performance. They can track their activities remotely as well.
Based on every employee's performance, you can even incentivize them at the end of the month and calculate their commission.
4. Engage Customers with Loyalty Programs
Every salon owner has one aim – to keep clients loyal to their business. The best salon booking software helps achieve this goal with its automated loyalty programs. It's an excellent way to attract new customers and incentivize existing ones.
With a loyalty program, your clients will get points each time they visit your business. Once they've achieved a certain number of points, they can redeem the same for a service or merchandise. To run a loyalty program successfully, it is important to have salon scheduling software. It tracks your customer's buying patterns and records the services they've availed of. Based on the loyalty program model set by you, points will be calculated at checkout.
There are various types of loyalty programs you can set up on your salon software. The popular ones include a points-based system and a punch card loyalty program.
With a compelling loyalty program, there are higher chances of your clients coming back. It is also a great way of enhancing your overall bottom line.
5. Automated Client Database
If you want your salon to operate more efficiently, having salon appointment software is invaluable. The beauty business today is all about how you engage and interact with your customers. If you want your customers to visit you regularly, you've got to go the extra mile to personalize their experience.
A good place to start is by recording their name, address, phone number, email address, past service, product purchase history, and birthday or anniversary date. With the right software by your side, database management becomes much easier. You can even segregate customers as per their visit frequency.
With a centralized location to manage customer records, you can curate personalized experiences for each and every customer. It also helps in your marketing efforts. You can send out discount coupons, gift vouchers, and free samples to clients who visit you often. You can also personalize the communication based on their purchase history. For example, if you have a client who only visits your salon for haircuts, you can send out messages to them via SMS and email when you're running special offers.
6. Swift Payment Processing & Cash Management
If you want to successfully run your salon business, effectively managing cash inflow and outflow is important. There may be times when you're not physically present in your salon but need to track the movement of cash on a daily basis. This is when salon scheduling software comes in handy. It helps in cash flow management. Previously, most salon owners relied on Excel to maintain accounts. However, it had its own share of drawbacks such as data loss and double data entry.
With salon POS software, every payment is recorded. Salon owners can even generate electronic reports to track pending payments.
Besides making the process easier for salon owners, it makes it easy for clients as well. They even have an option to pay at the time of booking as per their preferred payment method. The software also records which client has pending payments and which have paid in excess. Today, contactless payment has become the order of the day since everybody wants to limit physical touch as much as possible.
Once the service is completed and paid for, the invoice to reaches the customer directly via SMS and email.
7. Increased Security
As a salon owner, there are a whole lot of records you have to manage which is no easy task. You may have several Excel sheets and word documents all over the place. These can be easily lost in the event of a crash, digital threat, or hacking activity. With the best beauty spa management software, you can put away all your salon security concerns. You can store all your client information, product inventory, a sales record, and employee data on the software. You don't have to worry about it being misplaced or lost as it is all stored in the "cloud" which can be accessed from anywhere at any time.
Now that you're aware of the benefits of salon software, check out MioSalon. It is built to simplify salon and spa operations, enhance customer experience, and maximize revenue. Start your FREE trial now!