How to Ensure Data Security While Allowing Access to Staff Members in Salon Software?
If you run a salon or spa business, it is important to follow trends to stay ahead of the game. Automation is the secret ingredient of every successful brand in the beauty business. The first place to often start is by getting salon and spa software. It not just makes business management easy but also aids in improving revenue.
At first, it will take you a few weeks to get used to the spa software. Once you are used to it, you will want to explain the features to your staff (stylists, technicians, managers) as well. After you've briefed them on the unique features, you'll want them to use the software on their own. That's where the tricky part comes in.
Also Read: Salon Manager Responsibilities, Duties, and Skills For Better Salon Operation
Applying staff access levels in your software can be one of the most daunting aspects of salon management. As a salon or spa owner, you wouldn't want to give all your staff members access to client databases as it is a touchy subject. When it comes to your employees, there is a very thin line between security and trust. We also recommend you read these best ways to manage your salon staff effectively.
Setting staff access levels to your salon scheduling software is solely a matter of personal choice. However, as a business owner, if you are having a tough time deciding who should be given access and who shouldn't, we have you covered with some important pointers: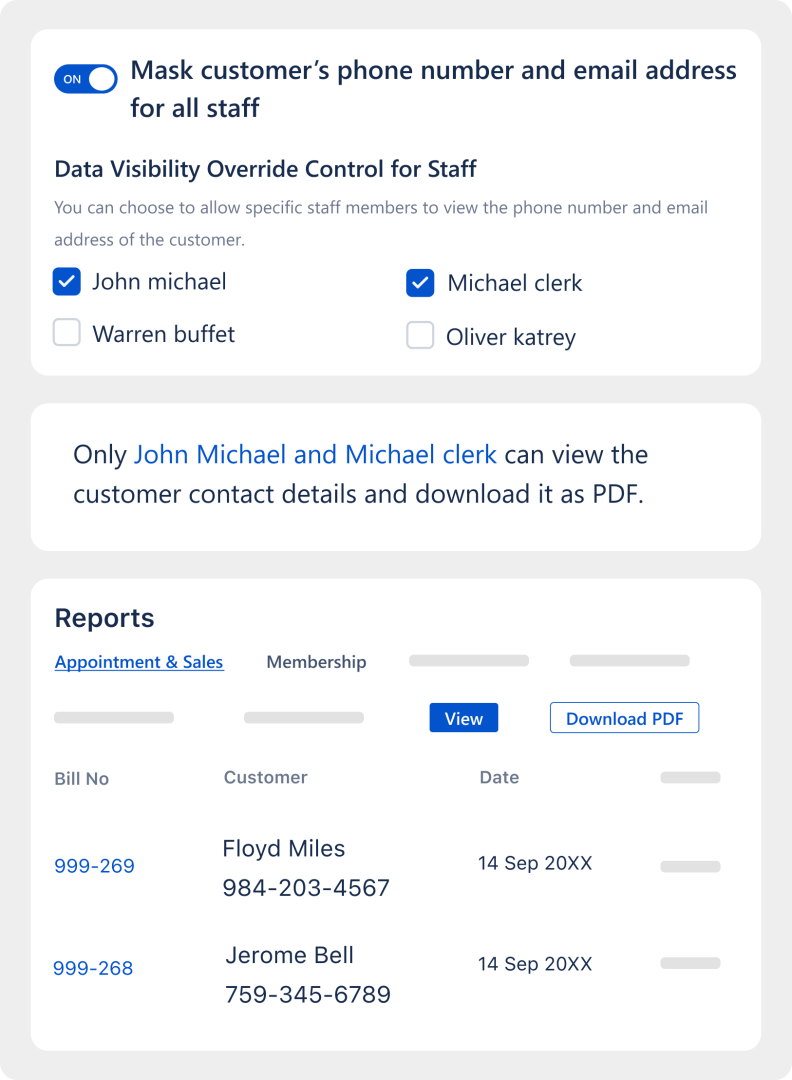 Tips For Setting Salon Software Staff Access Levels
1. Trust
As a salon owner, it is for you to decide whether your staff is trustworthy or not. Your level of trust dictates how much access they can get to your system. The best way to start off is by giving new employees access to just basic features such as the ability to check the appointment screen and the ability to book appointments. As they complete over six months in your salon/spa, you can promote their access to more complex features such as the right to see client details and salon reports. Remember, your staff will only see what you show them. As an owner or manager, the reigns are in your hands.
Also Read: Why Every Salon Owner Needs a Business Plan?
When a new employee joins you, there are several ways to instill a sense of trust. Increasing trust levels between the management and staff will definitely help you in the long run. Some of the ways include – holding regular meetings, allowing every team member to be responsible for their own work, and listening to the staff member's queries.
A strong culture of trust is the backbone of every successful salon and spa business.
2. Seniority
An easy way to set salon and spa software staff access levels is by seniority. This means setting the access based on how long they've worked with you and how senior their role is. If you have an employee who has stuck around for years and holds an extremely senior post in your business, they should be duly rewarded with complete software access. Their inputs truly matter to the growth of your business and thus it is vital to take them seriously.
This also gives them a feeling that you truly recognize their work and appreciate their contribution to your business.
3. Transparency
Transparency and trust go hand in hand. As mentioned earlier, your staff will only see how much you show them. Thus, early in the stage of applying staff access levels, it is important for you to take a decision about how transparent you want to be with your team.
You might like: How To Evaluate Your Salon Staff & Stylist's Performance?
Some salon owners want to keep their staff abreast of every minute happening in the business and hence they give them access to performance reports, financial reports, and managerial sections of the spa software. On the other hand, there are some salon owners who want to be quite discreet about the inner workings of their business.
If you feel uncomfortable sharing too much information with your staff members, you can lock down certain areas of sensitive data within the software.
MioSalon, the salon scheduling software, allows you to control the permission that each person on your staff has. By going to the settings tab on the software, you can edit staff access levels at any time. It is completely in the hands of the salon software manager as to who is allowed to access what.
Autonomy
When considering giving your staff salon ownership, you must also devote enough thought to how autonomous you want your team to be. Empowering your team to think like leaders can be extremely beneficial to their personal and professional growth. However, sometimes, that too can come with a hefty price.
When you want to decide how much autonomy and access a team member should be granted, speak to every member individually. Conduct a couple of sessions and gauge the kind of responsibility they have. When you give your team members access, it can be extremely rewarding to your business.
For example, if you have a beauty therapist who is extremely good with social media, perhaps you can give them access to your marketing reports. Maybe you see great potential in an employee to be a receptionist; you could probably train them to use the salon and spa software to take care of clients.
Pro Tip: Perfect the Art of Client Consultation in Your Salon & Spa
Never be afraid to have a quick chat with your team members. You'll be shocked to know how their skills can be leveraged on to get the most out of your business. Giving your staff a little more responsibility than usual makes them feel important towards contributing to your business. You'll also be surprised to know that One-on-One Meetings are the secret to Motivate Salon Teams.
Though setting salon and spa software access levels is completely a subject of personal choice, it's good to understand some important guidelines. When your team knows you've given them access to certain areas of your business, they will be more willing to respect your privacy and adhere to the rules you set.
If you are not able to get it right the first time around, don't get stressed. For any software-related queries, we are always at your service.
You can revoke staff access levels at any time to align with your business and salon ownership practices.
If your team member is quitting your salon or spa, remember to disable their access from the software immediately. You wouldn't want any kind of theft, fraud, or pilferage to occur within the system. To know more about how you can prevent employee theft and fraud in your salon, read this.
Use MioSalon software to manage & automate all your operational and marketing tasks. Signup now for a FREE trial!