Simplified Salon Payments: The Benefits of Integrated Credit Card Processing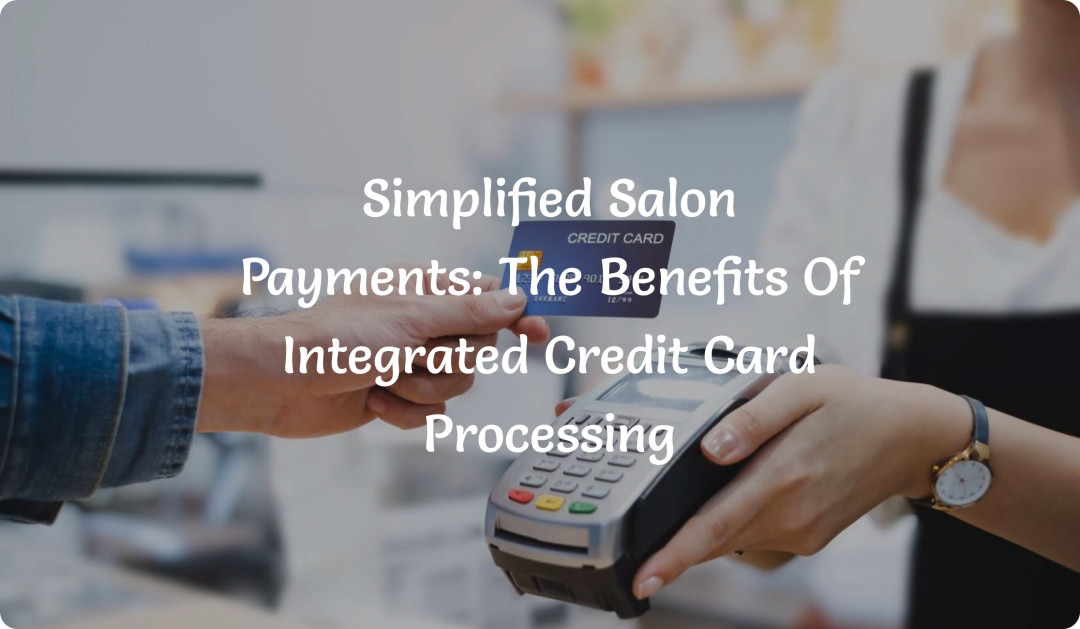 Importance of Convenient, Simplified, and Streamlined Payments
In today's fast-paced world, it is extremely important for salons to streamline payment management systems in-person and online. With managing appointments, multiple locations, and staff, a lot of things could fall through the cracks or cost extra time and energy. Clients too demand experiences that would simplify their salon or spa visit.
Also Read: Tips to Simplify Salon and Spa Business Operations
Salon payment management is more than just online scheduling or credit card swiping. It facilitates the effective running of your business and encourages long-term growth. While salon software is there for clients to interact with your business before they show up for an appointment and during it, it is also important to provide them with convenient payment options after a service has been availed.
Keeping this in mind, MioSalon is proud to announce the availability of integrated credit card processing in salon management software. The feature is a win-win for salons that are looking to manage their costs efficiently. The simplified payment system solves challenges and reduces additional credit card expenses.
Many small businesses, especially salons, and spas, have been slow when it comes to accepting credit card payments. However today, most people prefer making card payments to cash.
As a salon owner, you benefit the most by allowing clients to pay via credit card. That's mainly because credit card transactions have a higher transaction value. If a client has to pay by cash, they tend to feel restricted and thus curb themselves from purchasing any retail products. That's not the case with card payments. Consumers are more impulsive when using a credit card as they are not confined by the amount of cash they're carrying. Thus, it becomes easier for a staff member to recommend a retail product, upsell or sell add-on services.
Most Read: Tips And Tricks To Upsell Products And Services In Your Salon
Table of Contents:
Benefits of Integrated Credit Card Processing in Salon
1) Simplifies checkout in Salons
2) Eliminates double entries in Salons
3) Cost-effective for your Salon
4) Maximising Salon client experience
5) Creates Revenue opportunities for Salon
6) Solid security for your Salon
7) Works anywhere for your different Salon branches
Benefits of MioSalon Integrated Credit Card Processing
1. Simplifies checkout in Salons:
How to simplify the credit card checkout process in the salon?
Integrated credit card processing simplifies checkout. A salon manager no more has to switch between systems as a client waits to swipe their card. It's all on the beauty salon software. This means a faster payment process and reconciliation. Check out
Also Read: 7 Ways a Salon POS System Can Increase Your Salon's Profits
2. Eliminates double entries in Salons:
Does Integrated credit card processing in the salon stop double payment entries?
It also results in improved processes and fewer errors since all the data inputs are automatic. The consolidated reporting feature means no more checking bank statements with closed tickets. This enhances efficiency and reduces input errors. It also becomes easier to run recurring payments for memberships.
3. Cost-effective for your Salon:
Is Integrated Credit Card processing in salons cost-effective?
The feature also helps your salon and spa increase sales while minimizing transaction costs as there is no processing fee and the rates too are competitive with our partnering merchants.
4. Maximising Salon client experience:
Most salon owners tend to forget about the payment aspect of the guest experience. However, when you provide your clients with faster and seamless checkout, it leads to a better overall experience.
More Read: Surprising benefits of online booking & payments.
5. Creates Revenue opportunities for Salon:
Without an integrated credit card processing system, most salon owners complain about lost revenue opportunities. Our feature makes it easier to integrate gift cards, make product upsells, and incentive programs into the payment process.
6. Solid security for your Salon:
Is Integrated Credit Card Processing in the salon secured?
Every transaction on our software is validated and processed securely. We make use of only industry-leading security standards. Our aim is to protect you as well as your clients from any kind of credit card fraud. You could also secure card numbers in client profiles on the salon software for membership billing in the future. Not only for Credit card payments.
Also Read: Tips to Maintain Cyber Security in Your Salon
7. Works anywhere for your different Salon branches:
The simple setup makes it easy to use the software anywhere. A manager does not have to be constantly planted at the front desk. Credit cards can be accepted at the chair too after a client hasn't availed of a service.
Also Read: Salon & Spa Reception has these important Technological Support as well.
Are you looking at making your salon or spa thrive without changing your business model or services? All you have to do is upgrade to MioSalon, salon management software, which is now available with integrated credit card processing. The all-in-one, fully integrated solution efficiently tracks sales, tips, appointments, product purchases, check-ins, and gift cards to give every client a seamless experience.
Ease and convenience for your clients and staff are just a click away.