Should You Rent a Chair or Hire Salon Staff? We have the answer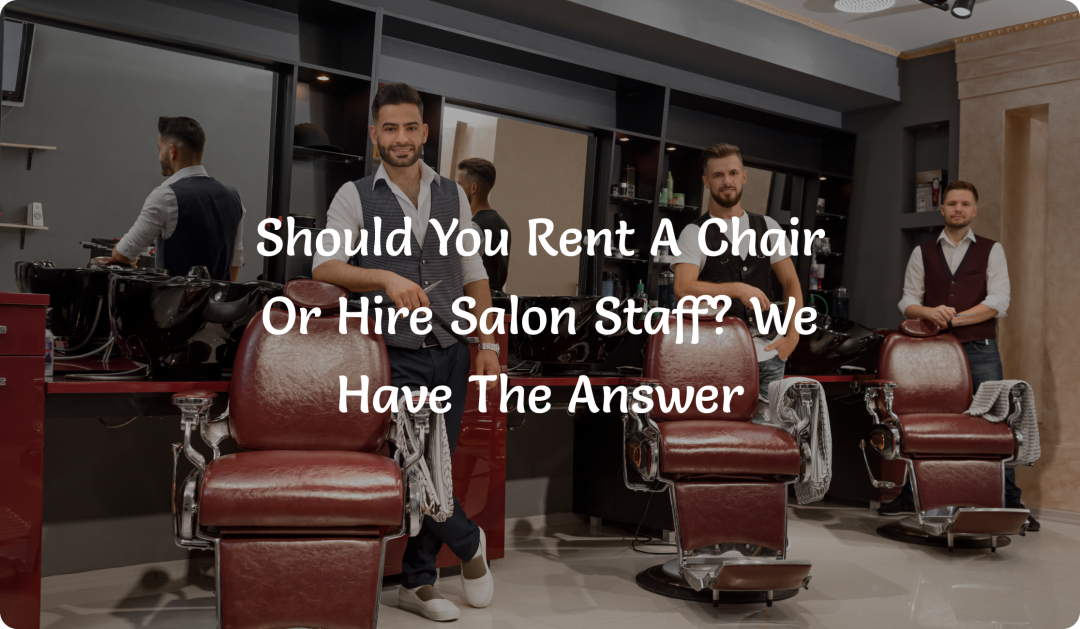 As a salon owner, there are several decisions you must take in the lifecycle of your business. Especially, if you are a growing salon, you need to make important decisions in Hire Salon Staff. You're likely to have faced this dilemma –should you rent a chair or hire employees for your salon? Well, both routes have their pros and cons. It's always better to take time to consider the benefits and drawbacks of both so that you can get the best out of your growing business.
Also Read: Why Every Salon Owner Needs a Business Plan
In this blog, we've analyzed both sides to help you make an informed decision.
Pros of the Rent-a-Chair Business Model
The two visible benefits of renting a chair include financial savings and freedom from employment laws. Let's examine these two points in detail:
➢ Salons can save money: Renting a chair to freelancers is a great idea when you are just starting out since the money inflow is usually less. They're responsible to pay a fixed fee for your space. In such a deal, both the salon owner as well as the hairdresser will make money. Besides saving money, it also gives you peace of mind as you won't have to deal with employee sick leaves, maternity leaves, and insurance headaches.
Also Read: 7 Secrets to Reduce Salon And Spa Costs
➢ Employment laws: Freelancers in most countries aren't protected by employment laws. This means you are not entitled to pay them any minimum wages or other employment rights.
➢ Freelancers bring clients: If you are a salon owner who is struggling to bring in clients, you could probably follow the rent-a-chair model. Though the clients are coming in, especially the stylists, nothing should stop you from taking advantage of this and marketing your offerings to them. Since they are already in your salon, you have this to your advantage. Keep your retail area in front of their eyes and urge them to go through your menu on your salon management software. If they're impressed, you may have just won yourself a new client.
Also Read: How a New Salon Can Secure Its First 100 Customers?
Right now, renting a chair may seem like the most promising model ever. But, wait a minute. It's always better to understand the negative points as well.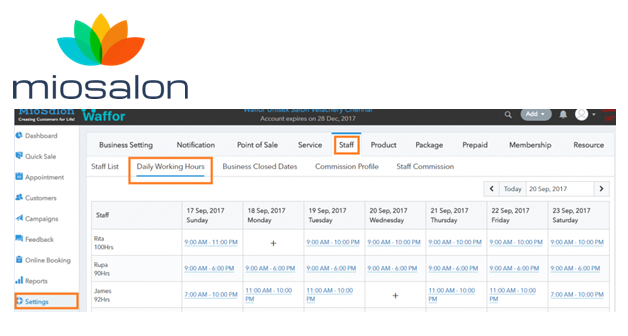 ➢ Freelance hairdressers work on their own terms: Freelancers are often their own bosses. They don't feel the need to report to anyone. However, sometimes this can jeopardize your business in the following ways:
→ A freelancer has a booking and they just don't decide to show up.
→ Decide to wind up early and go home
→ She/he tried to steal your clients by checking your salon software
→ Tried to convince other stylists to take the freelance route
You have to be very careful when choosing a freelancer. Remember, they are running their own business. Their nonchalant behavior can cause serious damage to your business.
➢ Impact on your brand: Every salon wants to portray a particular image in front of its clients. While you can always ask your team to behave in accordance with the rules set for you, you cannot impose rules on freelancers. Freelancers aren't always going to comply with your salon image. They will behave and dress the way they want. Hiring your own salon employees will definitely make you feel more in control of your brand.
You might like: 7 Step-By-Step Process to Build Your Salon Branding Identity
➢ Impact on your team: The popular idiom applies here 'one bad apple spoils the barrel'. If you plan to rent a chair, you must be careful about whom you plan to rent it. A freelancer with a bad attitude and negative energy can poison the minds of the entire lot. Always be sure before renting a chair for a long period, to carry out a trial period with newbies and see how they perform.
Benefits of Hiring Employees
After discussing the pros and cons of renting a chair to freelancers, let's look at the positives of hiring employees for your own team:
➢ Stable brand reputation: When you hire stylists for your own team, you can impose rules and get them to behave in a particular way. This gives your brand consistency and allows your clients to experience a certain level of service every time they step in. This gives your salon a more professional outlook and your team too will feel responsible for preserving your salon's brand image. Also, It is advisable to have a positive online reputation to attract new clients.
Most Read: Tips to Fix the Online Reputation of Your Salon
➢ Train them as you wish: Your regular clients have certain expectations when they visit you. They're doing so because you offer a certain level of service. Freelancers can completely mess things up for you. You can train them in different areas of your salon, get them to do tasks apart from their intended job, give them access to your hair salon software and make them a part of important company decisions.
➢ Permanent employees are invested: Actual employees are invested in seeing your business succeed. Since freelancers often move from one salon to the other, they're less likely to go the extra mile for you. A permanent employee, on the other hand, will be keener on making clients comfortable, upsell and work towards making your salon a better place.
When you own a salon and hire employees, all the profits are yours. You can incentivize your employees from time to time, but you can be sure that you are taking home a large portion of the revenue.
Check this: How to set up a commission structure for your Salon Stylists?
While hiring employees is the route most salon owners take, there are a few negatives too:
➢ Costlier: Employing hairdressers and stylists means you become subject to employment law. This includes handling sick days, maternity leave, sick days, and insurance. The overheads are many and these are going to cost you. In such a case, hiring freelancers will be less of a headache.
➢ Marketing responsibility: When you follow the rent-a-chair model, a freelance hairdresser pays for space. It is in their hands to get a client. The best part is that even if they don't get a client, you still end up getting paid. As a salon owner with employees, it is your constant responsibility to bring in clients to fill up the seats otherwise your employee's time and your money is lost.
Also Read: 10 Powerful Salon Marketing Ideas To Get You More Customers
➢ So, rent a chair or hire employees? What to do?
After weighing the pros and cons of both models, we cannot really decide which route is better. If you own a small salon with a tight budget, renting a chair is a great idea. However, it is important for you to write a service contract to get more control over your freelancers. Also, freelancers are a good idea when you want to introduce a new service but cannot afford a specialist.
If you're convinced about hiring a permanent employee, make sure you put enough time and effort into them and help them understand the values of your business. They're an investment that can make or break the success of your beauty salon. The bottom line is having a combination of both. This will help you bring the best out of your salon.
Whether it's managing employee attendance, and their commissions, or allocating daily appointments to them, MioSalon, salon management software has your back. Using our software, you can manage freelance and permanent employees alike. Signup for free!