7 Proven Strategies for Boosting Your Salon and Spa's Growth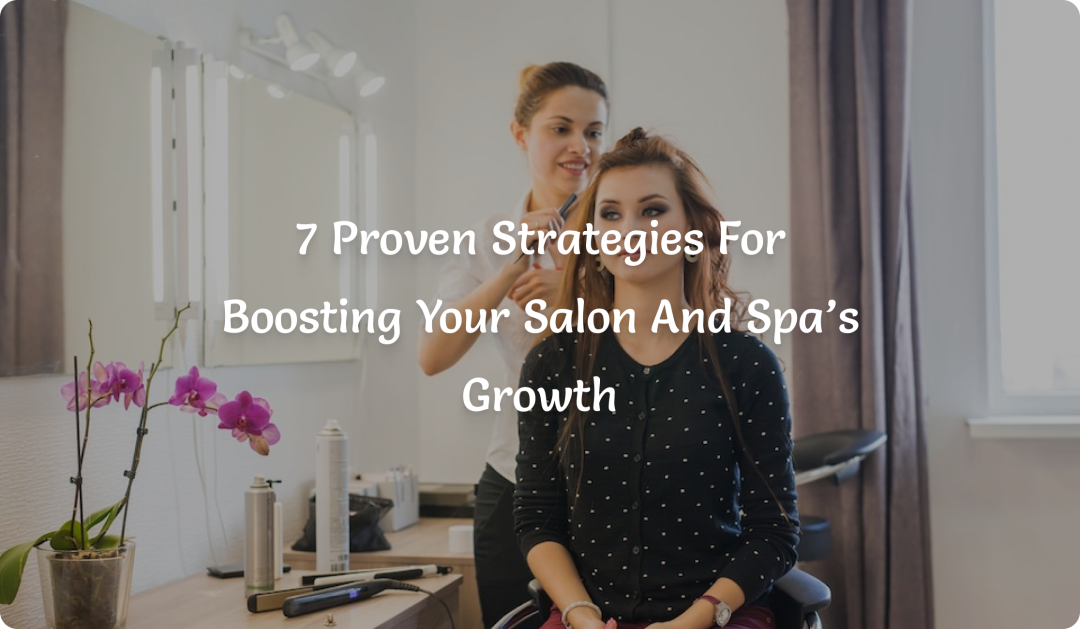 To improve your salon and spa growth would be an ultimate vision for any salon business owner. In the beauty industry, customers are the heart of your business. You may be having the best facilities and ambiance, but your business is going to go nowhere if you do not have a steady set of clients visiting you. Every salon/spa and spa owner has just one goal – to get more customers through the door.
If you have clients walking in and out of your salon/spa every now and then, you're pretty much sorted. But what if the number of clients visiting your salon/spa is diminishing? That's a matter of concern.
Did you know? It is six times more expensive to win a new client than retain an existing one. Also, returning clients spend 67% more than new customers. In light of these statistics, it is very important for you to implement strategies that will improve your salon and spa growth and increase the overall bottom line altogether.
In this blog, we've thrown light on seven methods that will come in handy in growing your modern salon/spa. Whether you have a standalone salon/spa outlet or a chain, these methods will prove effective in the long run.
7 Proven Strategies for Boosting Your Salon and Spa's Growth
1. Get More Clients Through The Door:
The first step towards growing your salon and spa is to attract clients. One common mistake most salons/spas make is that they waste time, money, and resources attracting the wrong type of client. When you run a salon and spa, you must know who your ideal client is and thus devote your time and effort to attracting customers. These customers are highly profitable because they love the treatments you offer, buy regularly from you, are easy to service, and are constantly referring your salon/spa to their friends.
⮞ Create a referral program:
In the salon and spa business, referrals are everything. A survey reveals that 80% of salon/spa owners get most of their clients from referrals. Referrals come from word-of-mouth recommendations from your current client base. As a salon/spa owner, in a need to improve your spa growth, you need to increase the number of referrals you receive, you must keep your existing customers happy. You can create a referral program and incentivize customers to give you referrals. You can run a whole lot of promotions, offers, and discounts to keep your clients coming. Use social media and email to promote your referral program.
⮞ Target men and children:
Every salon and spa markets to women. Cut through the clutter and market your salon/spa to your male clientele. Brand your salon/spa in such a way that it offers for customers. You may also include a kid's play area in a corner to keep children busy while their parent is availing of a service.
⮞ Unique marketing opportunities:
Most salons and spas refrain from running marketing campaigns because they find it expensive or impossible. However, not all strategies are expensive. You can resort to cheaper alternatives such as email marketing, SMS marketing, and social media marketing. You can also regularly post blogs on your website giving clients beauty tips or DIY hacks. Doing this is a great way of reminding your clients that you're still in the business.
2. Upsell Products & Services:
Upselling is a great way to improve your salon and spa growth. Upselling salon/spa services are easier and less expensive than finding new customers. If you want to see better numbers on your upsell, you just got to do it. To excel in the art of upselling, you need to create a short pitch. When upselling, always put your clients first. Shape your pitch around the benefits your client can receive if they buy a particular product. Another way of upselling is by offering free samples of products/services. Most clients are likely to purchase a retail product from your salon/spa on their next visit if they've used the sample. Upselling is a tried-and-tested way to grow your salon/spa. It not just improves profits but also enhances your customers relationship. It gives them a feeling that you truly care about their well-being.
3. Take Your Services Up A Notch:
With stiff competition in the beauty business, you have to incorporate ways to stay ahead of the curve. Your clients too want different experiences every time they visit. Following run-of-the-mill practices will make your salon and spa come across as old-fashioned. Thus, to stay in the game, you have to constantly keep up with what salon clients want. Keep an eye on past client history. Use these insights to go the extra mile while offer for customers.
4. Feedback Matters:
You can only improve your spa growth when you know what a client wants. Not all clients are comfortable voicing their opinion. Therefore, send out emails to clients after the service asking them what they liked and disliked about your salon/spa. Include a series of questions that will actually help you realize your goals and improve your salon/spa experience for customers.
5. Add Value Services to Salon and Spa:
Most salons/spas straightaway increase their prices to grow their business. However, this is not going to work. Instead, clients will start visiting their neighborhood salon/spa. A salon/spa owner must focus on adding value to the services. This can be done by offering a little extra for the same price, 3 for 2 offers, implementing loyalty schemes, cross-selling and happy days. Don't make a client feel cheated; instead, give them a little more. However, while doing this, don't end up suffering a loss.
6. Identify Your Market:
Servicing a Range of Clients: Embracing Diversity in Our Salon and Spa, find out the type of people who bring in the most business. For example: Is it a working woman or someone of a specific age group? Once you determine the type of people who bring in the business, analyze the common characteristics between them. We understand that you may want to pamper every single person who walks through the door but decoding the type of people who are interested in availing of your services will help in your spa growth. Doing this will also help you identify the loopholes before it's too late.
7. Reward Your Staff:
Finally, you owe the success of your salon and spa to your staff. They are the pillars of your business. It is because of the quality of service they offer, that customers visit you often. Thus, every salon and spa owner must implement a program to recognize their employees for the same. Offer rewards from time to time set targets and goals for them, and reward them every time they meet them.
If you truly want your salon/spa to succeed, follow these seven methods. It is the perfect recipe to grow your business and improve the bottom line. During your journey, constantly identify things that are hampering your spa growth and take steps to fix or eliminate them.